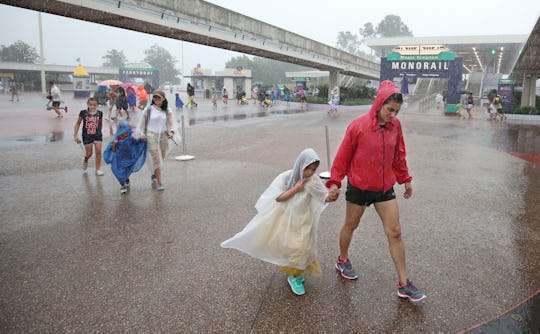 GREGG NEWTON/AFP/Getty Images
These Photos Of Disney World After Hurricane Irma Show Where The Storm Hit
After much nervous anticipation, Hurricane Irma officially hit Florida on Sunday, bringing panic and destruction along with it. And as many residents evacuated, those following the news worried about the people and places left behind. But at least "The Most Magical Place on Earth" seems to have made it through the storm largely unscathed. And these photos of Disney World after Hurricane Irma show that the theme park got very, very lucky.
When it came to Irma, the people of Florida were not messing around. After watching the damage Irma did in the Caribbean, and still reeling from the surprising force of Hurricane Harvey in Texas, many residents decided to play it extra safe when it came time to prepare. As such, the Disney World decision-makers shut down the park temporarily, marking only the fifth time that the park has closed its doors for a full day in the 45 years since it started bringing joy to children and getting "It's A Small World" stuck in every grown-ups' heads.
But luckily, it looks like the Disney shut-down will be a short one. According to Deadline, Disney World assessed the property after the storm passed through, and decided that it was totally safe to reopen on Tuesday with normal theme park hours. And looking at the pictures of the park, it seems as that — while it may be a little soggier than normal, with a fair number of downed trees — it's otherwise intact.
Here's what Disney World looked like after Irma passed through:
Further photos of Disney World on Blog Mickey showed that there was some light damage to some signage around the Disney roadways, and to the monorail line. Otherwise, though, the park seemed ready for business as usual to resume.
According to Disney's website, special events, like Mickey's Not-So-Scary Halloween Party, will also take place as normal once the park reopens on Tuesday. The site noted, however, that water parks will remain closed for now, and will reopen sometime later this week. Also, there may be "modifications to some attractions and entertainment offerings."
But hey, that's all so much better than it could have been. It seems that the Disney staff really did whatever they could to weather the storm safely, and also to provide a magical experience for guests who were trapped at Disney resorts during the worst of the weather, with costumed cast members helping out and entertaining the children.
While Disney may have been lucky, others did not get the same reprieve from the storm. Irma has reportedly caused at least nine deaths on the U.S. mainland and many more in the Caribbean, and has left a lot of property damage in its wake, according to ABC News.
So while you're breathing a sigh of relief that Cinderella's castle looks as majestic as ever, consider taking a moment to help Irma victims, too. After all, as one Disney song says, we're all in this together.
Check out Romper's new video series, Romper's Doula Diaries: