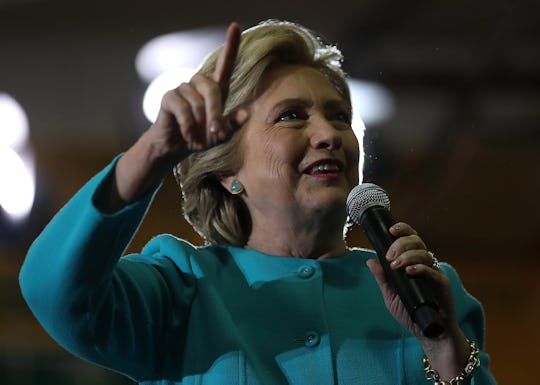 Justin Sullivan/Getty Images News/Getty Images
Photos Of Hillary Clinton, In Honor Of Her Birthday
If polls are any indication of what's to come (hint: they are), the people of the United States will be wishing their very first Madame President a very happy 70th birthday on this day next year. For now, Clinton is working toward earning herself the prize she's long coveted: the White House. And walking into the Oval Office as Commander in Chief would probably be the best gift she's ever had. It would be the culmination of a lifetime of public service and an illustrious career, so let's re-live the highlights of her historic candidacy and beyond with some photos of Hillary Clinton in honor of her birthday.
The Notorious HRC did take some "me" time out of her intense campaigning schedule to attend an Adele concert Tuesday evening, but this iconic lady has work to do before Election Day. With nearly every general election poll showing she has a significant lead over Republican opponent Donald Trump, the former Secretary of State isn't letting up on her efforts. On Wednesday, she held two rallies in the swing state of Florida today — where, in Tampa, the crowd sang her "Happy Birthday."
The Clinton campaign didn't forget about the onetime first lady's big day in the home stretch, either. "Happy birthday to this future president," read the caption of photo posted to Clinton's social media accounts of the candidate herself as a young girl.
This, of course, prompted some on social media to poke fun at her for wishing herself a happy birthday, but it's common knowledge that the only tweets that Clinton sends herself are the ones signed "-H." Give her a break, she's now 69 years old and has a presidency to win!
Of course, she already made history when she accepted her party's nomination for the presidency at the Democratic National Convention back in July, becoming the first woman ever to make it onto a major party's ticket.
And she resurrected the epic white pantsuit at her third and final presidential debate, a poignant nod to the women who fought for women's right to vote more than a century ago.
But it's not just pantsuits that Clinton has elevated in popular culture. She's pretty much the queen of the Blackberry:
She kills it in sunglasses, too:
It's hard to argue that she's not a boss...
... because she's handled one of the most caustic presidential campaigns ever with grace and poise. It's helpful to remember, though, that things weren't always so awful between her and Trump — like when she and Bill attended Trump's third wedding as VIP guests way back in 2005, according to People.
She also (presumably) had some fun, like when she made a cameo in Comedy Central's Broad City earlier this year:
...and when she attended her daughter's wedding back in 2010:
Clinton, her loved ones, and her colleagues have made a lot of great memories over the years, as evidenced by her extensive Instagram feed:
She's spent much of her time with her husband, President Bill Clinton, too:
Now, she's looking forward, to Nov. 8 and beyond.
The best president the American people can give Hillary Clinton is the promise to get out and vote on Election Day. Happy birthday, HRC!