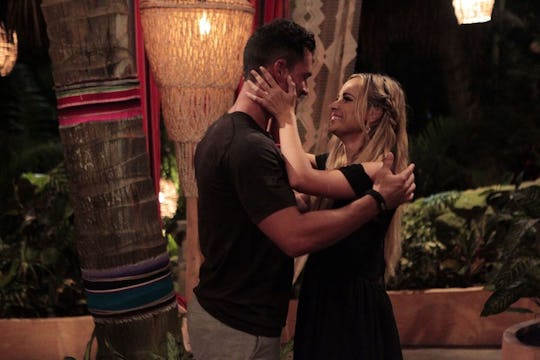 ABC/Rick Rowell
Photos Of Josh & Amanda After 'Bachelor In Paradise' Prove They May Actually Last
They just couldn't keep it quiet. By now we know that Amanda and Josh are the real deal on Bachelor in Paradise since the topic of Andi Dorfman's book has come twice and neither time was enough to break Amanda's faither in Josh. But outside of the show, they couldn't help themselves, because there are photos of Josh and Amanda after Bachelor in Paradise that prove they may actually last as a couple. Like, well beyond the final rose ceremony of the season. If her BFFs the twins warning her about Josh, along with witnessing the stirrings of his temper, weren't enough to deter Amanda, then obviously the two are going to try to make it work.
And the photos of Amanda and Josh that recently came out are proof of this, showing the couple at the Orange County Fair with Amanda's daughters in a wagon nearby, making a kind of adorable family, regardless of what you might think of Josh on Bachelor in Paradise. There have been some front page photos on magazines declaring that Josh and Amanda have already moved in together since filming is over and that Josh made the move across the country to Amanda in California. The photos of the two of them with Amanda's girls in tow definitely back that up.
Of course there was also Josh showcasing his drive across country via Twitter photos that showed the welcome signs for a lot of the states he passed through, which, if you paid attention, seemed to get him closer and closer to California. He didn't tweet if his road trip across America was for business or pleasure, but something tells me that it was about making the move for Amanda, to move in together in the sunshine state.
Half the battle is keeping your relationship in tact when you leave a show in Bachelor Nation long enough to appear together on the reunion specials. The other half, of course, is being able to hide said relationship from the public eye until the show has finished airing. Amanda and Josh from Bachelor in Paradise were able to handle one of those, but not quite the other. Granted, you should be able to live your life after the show, especially if you're trying to embark on an exciting new life together, but come on guys. You had one job and that was to keep us all in the dark for six weeks. But they had to slip up this close to the season finale.
Still, the photos of Josh and Amanda prove that love does last beyond paradise for some of the couples and even with a relationship that endured some rumors and concern from friends, they managed to make things work for themselves. It almost makes you believe in true love via reality TV again.