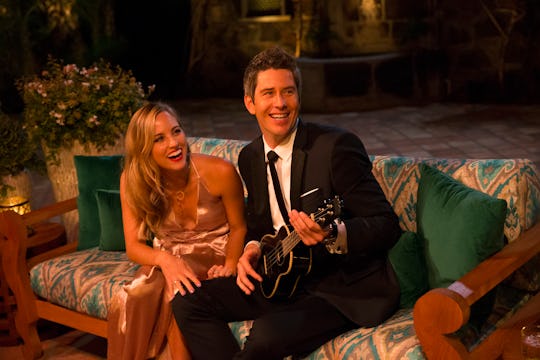 Paul Hebert/ABC
Kendall's Unique Hobby Is Sure To Catch Arie's Attention On 'The Bachelor'
As difficult as it might be to believe, the women of The Bachelor Season 22 each had a life long before they were cast as contestants to compete for Arie Luyendyk Jr.'s heart. And while Kendall Long is definitely one of those women who already had a lot going on in her life before she started filming, the photos of Kendall's taxidermy from The Bachelor contestant show off a very interesting side to her that you may not have glimpsed from her ABC bio. Suffice to say, it's a very unique hobby.
Kendall has a vast collection of stuffed and deceased animals, which now adorn her home as pieces of repurposed decor. It's not the most glamorous hobby, or even the most common, but I assure you, she likely doesn't have plans to bring the tools of her hobby with her to the Bachelor Mansion.
In a way, the hobby almost makes Kendall more approachable and relatable. Maybe we're not all clamoring for a stuffed seal to add to our living room layouts, but the photos of Kendall's taxidermy show another more personal side of her rather than the requisite adorable selfies and professional looking model shots on her Instagram. But there are definitely some of those too, and I wouldn't blame you if you also wanted to check those out as well. But I have to admit, they're nowhere near as interesting as her taxidermy photos.
It looks like Kendall is more about collecting taxidermy animals rather than working on them herself, but that doesn't mean she doesn't know enough about them to potentially do it herself. Under a photo with an adorable, stuffed duckling, Kendall wrote, "Didyaknow that ducks have no nerves or blood vessels in their feet so their feet will never feel chilly!" So she's also full of a ton of interesting animal facts as well.
In her Bachelor bio, Kendall said that two of the things on her bucket list are to "Visit Japan and go to a Hedgehog café" and "Hang out with pigs in the Bahamas." For those who don't know, a Hedgehog café is a place where you pay to basically drink all the coffee and tea you want in a half hour while petting actual hedgehogs. So yeah, Kendall is just an animal lover overall, regardless of whether they're stuffed or still alive.
Naturally, that love doesn't die when animals do and her taxidermy obsession is sure to be a big talking point for her this season, if only to add some lighter moments to what can otherwise be intense cocktail parties. And she definitely doesn't discriminate when it comes to what kind of stuffed animals she prefers to collect. She's posted Instagram photos of pretty much everything, from bulldogs to insects in their taxidermy states and she seems to have loved each one more than the last.
Although it's certainly a unique hobby and one that might be seen as more quirky than anything this season, let's give Kendall the benefit of the doubt and just admire her for her clear love of animals, even after they've stopped breathing. And since she also has a living dog, Odin, her entire home probably isn't made up of her taxidermy, though you have to expect to find some interesting conversation pieces and specimen jars.
Every season, there's a batch of women who try hard to stand out from the rest, whether they bring gifts for the Bachelor in question, show up in some kind of flashy mode of transportation, or dress up in costume. I guess loving taxidermy is one way to stand out from the rest of the two dozen or so women who show up on the first night on The Bachelor, so here's hoping Kendall brings one of her favorite taxidermy animals along for the ride.
Check out Romper's new video series, Romper's Doula Diaries:
Watch full episodes of Romper's Doula Diaries on Facebook Watch.