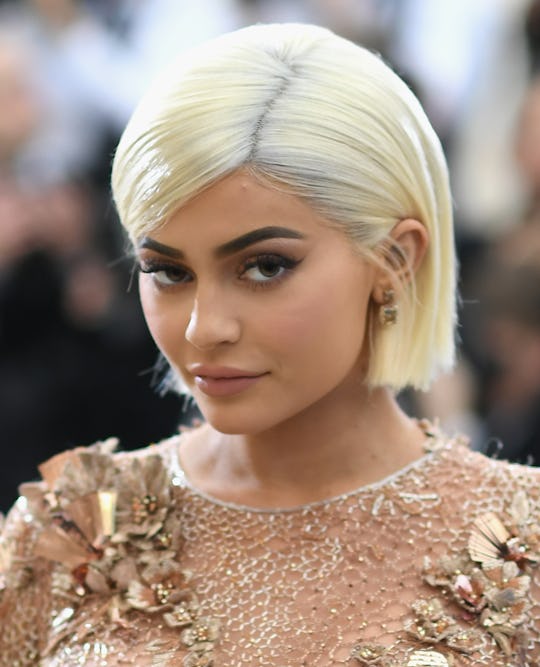 Dimitrios Kambouris/Getty Images Entertainment/Getty Images
Photos Of Kylie Jenner's "Baby Bump" Have Surfaced, But Fans Are Still Super Confused
Ready for the ultimate plot twist in this whole "Is she or isn't she?" Kylie Jenner rumored pregnancy saga? Photos of Kylie Jenner's alleged "baby bump" have surfaced, as Cosmopolitan reported on Wednesday. But, here's the thing, they're paparazzi shots from all the way back in September that, for some reason, no one seemed to notice initially. Needless to say, fans are pretty confused by this twist, and many are finding the whole thing is just a little bit too creepy and invasive.
One site with the pictures, X17, wrote that the photos were taken during a surprise party Jenner threw for her good friend, Jordyn Woods, all the way back in September — which is when news first broke of her rumored pregnancy. In the blurry paparazzi pictures, a person (who looks an awful lot like Jenner) seemed to be resting her arm on a baby bump that was hidden under a large jacket.
Romper's request for comment from Jenner's rep regarding the newly-surfaced photos was not immediately returned. So far, it's unclear how these photos suddenly surfaced and why no one noticed them before — although, for the sake of Jenner's privacy, I'm kind of glad they didn't pop up earlier. After all, the paparazzi shots definitely fall into the territory of body shaming and invasion of privacy, and although fans are clearly very curious about Jenner's reported pregnancy, it should be her news alone to share.
After the photos took off online, fans quickly turned to Twitter to share their thoughts:
Some Were Confused About How Far Along Jenner Might Be
A few fans and media outlets started wondering whether Jenner could give birth to her rumored baby by New Year's Eve — or if a new Jenner had already been born into the family. Those guesses, though, were based solely on a few blurry paparazzi pictures, and entirely ignored the fact that Jenner hasn't confirmed her reported pregnancy yet.
Some *Still* Didn't Believe Jenner Was Pregnant
My favorite conspiracy theory: Jenner isn't pregnant at all. She simply grew tired of everyone repeatedly starting rumors about her supposed pregnancies over the years, so she chose to let the media circus play out this year while she took a little vacation. Nothing wrong with that.
... While Others Took The Photos As Definitive Proof
Personally, I don't think it's confirmed until Jenner confirms it — but many people took the pictures as proof that Jenner was expecting.
Many Stood Up For Jenner's Right To Privacy
It was great to see how many fans came out swinging to defend Jenner after the paparazzi pictures made the rounds online — even though many of those same fans have been following Jenner's every social media as they wait for a pregnancy announcement from her. Many of them weren't happy when Jenner didn't make a single appearance in the Kardashian Christmas card posted on Instagram throughout December by Kim Kardashian, and a good number of them have been begging Jenner on social media to reveal whether she's pregnant or not. Quite a few are looking for clues on Jenner's Snapchat, Instagram, and Twitter accounts.
Regardless of the public's interest, the 20-year-old beauty mogul has kept entirely mum on the pregnancy reports, and her silence on the subject has definitely sparked even more interest in the rumors. But the reactions to the paparazzi's supposed pictures of Jenner make it clear that most of Jenner's fans are willing to wait as long as necessary for the Keeping Up with the Kardashians star herself to announce the news herself — and that they're not down to hear the news from someone else without Jenner's permission.
Check out Romper's new video series, Romper's Doula Diaries:
Watch full episodes of Romper's Doula Diaries on Facebook Watch.