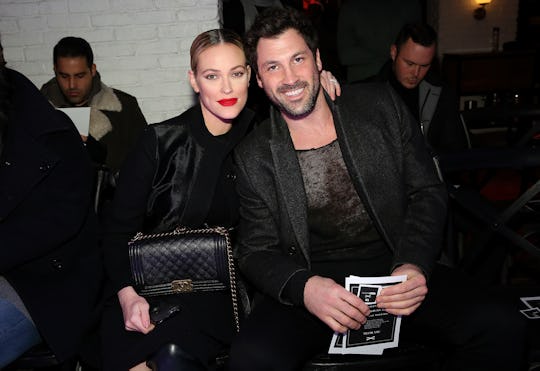 Monica Schipper/Getty Images Entertainment/Getty Images
Maks & Peta's Baby Will Win Over Your Heart
Being a working parent is never easy, and even those of the non-kid variety can surely see the struggles of working full time while raising babies, however fulfilling both parts are. Which is why the photos of Maks and Peta's baby are pretty good evidence that the Dancing With the Stars couple probably find it that much harder to go to work each week, leaving behind an adorable new baby who probably makes things a lot more fun than sweating all over a rehearsal studio floor.
Maks and Peta are both pros on DWTS, but they've both managed to excel in different seasons, always bringing the friendly competition and always supporting each other along the way. Competing for the prized Mirror Ball trophy for several seasons together means having a little chill when it comes to competing against your significant other.
Peta and Maks had been on and off at first, but were engaged in December of 2015 after Maks proposed to her live on-stage at their show, SWAY: A Dance Trilogy in Florida. In January of 2017, the couple welcomed their first child, Shai, and are to be married in the summer of 2017, making for a pretty hectic (though very exciting) year.
Leaving the increasingly adorable Shai behind every day (when he isn't being brought in for rehearsals, of course) has got to be tough, especially since the photos of Maks and Peta's baby, along with the two of them, show how close-knit this little family already is.
When Peta and Maks appeared on Good Morning America in February, showing their baby off on camera for the first time, it was obvious that returning to DWTS wasn't on the couple's to-do list or even really on their radar at the time. "I specifically wanted to keep him very private from the beginning because we wanted him to ourselves," Peta said. "I think he's just so special that we wanted those moments, those first moments, to be for ourselves."
That's more than understandable and something all new parents can attest to. There's enough sharing that goes on among family and friends that you keep as much private as you can, for as long as you can, in the beginning.
Fans of DWTS already loved the story of Maks and Peta, but when Peta got super real shortly after leaving the hospital, with her belly not yet shrunk down, she gave fans another reason to support her, both on and off the show. She captioned a photo of her post-baby belly with, "I left the hospital looking 5 months pregnant. Many people think a woman should shrink right back to her pre-birth weight immediately. That is just not the truth for most." That couldn't be truer, but the photos of Maks and Peta's baby prove that he was well worth it for the new mama.
But even between all of the rehearsals, and Maks' recent calf injury, the family of three seems to be able to find time to be together and take tons of those baby selfies that all new parents are known for because they invented the cloud for a reason, right?
It's still unclear if Maks will recover from his injury in time to come back to DWTS this season, but the only upside is that it'll afford him more baby time and who doesn't want more baby time with that precious face?