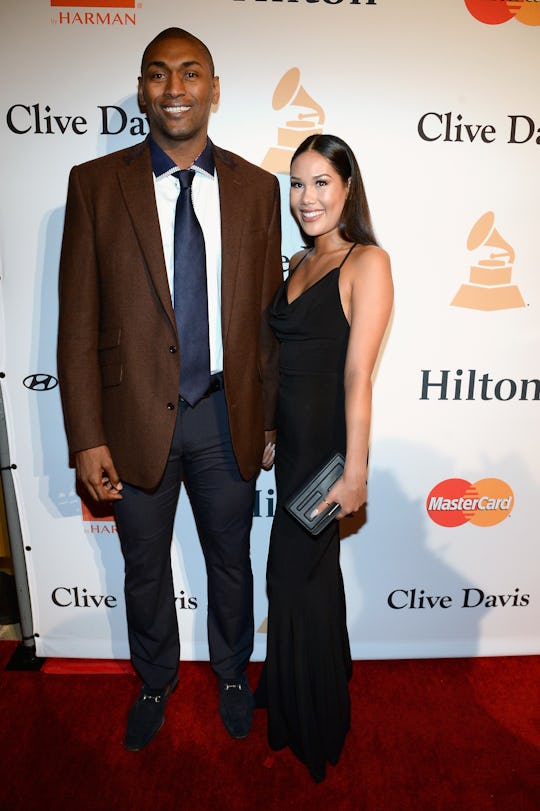 Kevork Djansezian/Getty Images Entertainment/Getty Images
Photos Of Metta World Peace & Maya Ford Explain Why The 'Big Brother' Star Is Homesick
So far on Celebrity Big Brother, former NBA player Metta World Peace seems to be blissfully unaware of many aspects of the game, but that's all part of his charm. The other part is in how much he misses his family, including model Maya Ford, the woman he refers to as his wife on the show. But the photos of Metta World Peace and Maya Ford totally explain why the Celebrity Big Brother contestant is so eager to get home. They're an adorable couple and seem to have been together for the past several years, culminating with what appears to be a recent engagement.
To know the Big Brother game is to become totally and deeply entrenched in the culture of the show and everything about it. So I'm inclined to forgive the famous houseguests of Celebrity Big Brother if not all of them know all that much about an all-consuming game show, and yes, I am specifically referring to Metta. From asking what it means to "backdoor" a fellow houseguest to failing to understand the voting process for the first ever elimination, he's still managed to have a good time in the Big Brother house. That is, for the most part, anyway.
As you can see in the episodes that have already aired, Metta misses his family a lot, but what hasn't made it to air was his momentary panic at being locked in the house, unable to leave unless he was voted out. In the live feeds at the start of the season, Metta hit a Big Brother panic button in the house, which likely prompted producers to talk him into staying. But what made him do it at all was his sadness at being without his family, and that's entirely understandable.
Since then, it seems like Metta has made, ahem, peace with staying in the house and has provided show and live feed watchers alike with hours of entertainment. Outside of the show, he has a lot to look forward to, regardless of if he gets voted out or makes it all the way to the Celebrity Big Brother season finale. He has three children with his ex-wife Kimsha Artest and another child with Jennifer Palmahis, his girlfriend before that. But he also has Maya waiting for him and the photos of Metta and Maya together pretty much explain why he can't wait to reunite with her. They're freaking adorable together.
Although there hasn't been an official announcement yet about Metta's engagement to his longtime girlfriend, he did comment on one of her Instagram photos from January 1, writing, "My wife to be," which kind of explains why he's so quick to refer to her as his wife already on Celebrity Big Brother. He also recently tweeted a shout-out to Maya and his children, telling them that he misses them and adding "Maya World Peace" with lots of hearts and engagement ring emojis, so I'd say it's pretty official.
But before you go tweeting at Metta to tell him about everything going on in the house that he may not know about, apparently Celebrity Big Brother houseguests can say what they want tweeted out while in the house, however they aren't allowed to actually read tweets or go on social media themselves.
The way I see it is, Metta is probably having the most fun in the Big Brother house because he seems to be just along for the ride. He isn't making big moves or trying to become Head of Household. He's more focused on hanging out in the hot tub and talking to the cameras. But maybe, as Julie Chen told Entertainment Weekly, that's all part of Metta's Celebrity Big Brother strategy. Perhaps this is his way of having the other houseguests underestimate him.
Getting further in the game means getting closer to that prize money, but it also means Metta will continue to be away from his kids and Maya that much longer. And if they really are newly engaged, it's legitimately hard to stay away from your future spouse so soon after. Hopefully, Metta can continue to find the fun on his Celebrity Big Brother experience now that the shock has worn off.
Check out Romper's new video series, Romper's Doula Diaries:
Watch full episodes of Romper's Doula Diaries on Facebook Watch.