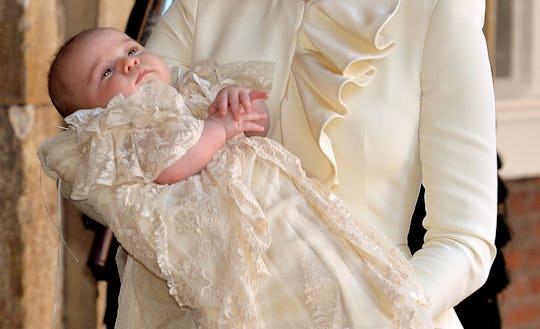 WPA Pool/Getty Images Entertainment/Getty Images
These Photos From Prince George's Christening Will Hold You Over Until Prince Louis' Big Day
Over the past week or so, it feels like there's been a bit of a lull in the royal family news. And that's understandable; the newest royal, Prince Louis, was born over a month ago and Prince Harry and Meghan Markle's May 19 wedding has come and gone, so it makes sense that everyone has gone back to their royal duties in between all of the celebrations and excitement. But this won't last for long as the youngest member of the royal family's christening is likely coming up pretty soon. And looking back at photos from his older brother Prince George's christening might just be the sure-fire way to know what to expect when his day finally arrives.
A date for Prince Louis' christening has not been announced yet, but if his parents, Kate Middleton and Prince William, follow certain patterns from the past, his special day should be around the corner. For example, Princess Charlotte was born on May 2, 2015 and was baptized on July 5, 2015, about two months later, according to her page on the official royal family website. Prince George, on the other hand, was born on July 22, 2013 and was christened about three months later, on Oct. 23, 2013, according to his respective page on the royal family's website. With that in mind, Prince Louis' own christening could take place at any time between the end of June and the end of July, considering his April 23 birthdate.
Until then, though, royal spectators can look back at everything that happened at Prince George's christening nearly five years ago to get an idea of what to expect with his younger brother's.
Prince George's 2013 christening was a "low-key ceremony," according to Business Insider, considering the baby is in line to be the future king, it's understandable that they'd want to keep the media frenzy to a minimum. Nevertheless, it looked like it was a lovely affair, with family and friends gathered to celebrate the birth of Prince George and his acceptance into the church. "Being baptized into the church is more significant for George than for most people, since he is in line to become king, which would also make him the supreme governor of the Church of England," as CNN explained.
The officiant of the ceremony — the Archbishop of Canterbury, the Most Rev. Justin Welby — spoke about how important the ceremony truly was. According to CNN, Welby said:
As a nation we are celebrating the birth of someone who in due course will be the head of state. That's extraordinary. It gives you this sense of forward looking, of the forwardness of history as well as the backwardness of history, and what a gift to have this new life and to look forward.
And based on the photos from the occasion, it's clear that Prince George's christening was a joyous and celebratory day.
Although there aren't any photos from inside the church during Prince George's christening, photos from before the ceremony show the royal family greeting each other and saying hello to the little prince as they entered the church for the private gathering.
Additionally, the ceremony was also quite small. According to E! News, there were only 23 guests in attendance and it was basically family, friends, and Prince George's newly announced godparents. As E! News reported, they are Oliver Baker, Emilia Jardine-Paterson, Earl "Hugh" Grosvenor, Jamie Lowther-Pinkerton, Julia Samuel, Zara Tindall, and William van Cutsem.
A baby's christening is an important time for the family and photos from Prince George's show just how special and meaningful that day was for them. And while the public may have wanted to watch the entire ceremony unfold, it's nice that they were able to enjoy Prince George's christening with a fair sense of privacy.
Though royal watchers probably won't get to see every moment of Prince Louis' upcoming ceremony, you can likely count on plenty of regal shots of the newborn in his beautiful, traditional christening outfit... and Princess Charlotte giving her now-trademark wave to her fans.