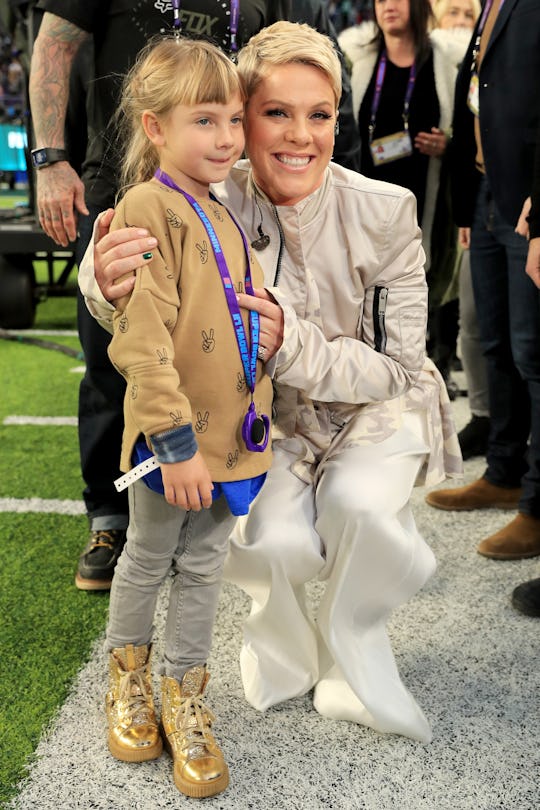 Christopher Polk/Getty Images Entertainment/Getty Images
Pink Got Refreshingly Honest About Her Insecurities As A Mom & Raising Her Daughter
When it comes to raising kids, every parent has at least a few doubts in their ability as a mom or dad — and Pink is no exception. In a recent Instagram post, Pink shared her parenting insecurities regarding raising her daughter. She also asked fans to share their thoughts, which has since resulted in more than 10,000 honest and encouraging comments, many from fellow parents.
Pink and her husband Carey Hart are parents to Willow Sage, who will turn 7 years old next month, and Jameson Moon, who is about a year and a half, according to People.
"I feel like I had it all figured out when she was younger. When it was just her. Now that there's two, and such different ages, I feel flustered so much of the time," Pink captioned a photo of herself and Willow on Instagram. "The older she gets the less clear I am on how to guide her."
She then shared a bunch of questions running through her head. "Do I take the raw honest tough way? Do I cuddle her and tell her to not to worry?" Pink wrote. "Do I let her be sassy knowing I want her to be strong and need her to be strong to survive in this world? Of course, but how do you interject subtlety and kindness?"
Pink ended the post by asking for readers' thoughts — though she asked those whose thoughts were "you worry too much" to step aside. She wrote, "I already know I worry too much, don't even bother telling me about that. I'm aware. Thoughts?"
Many fans chimed in with their thoughts, sharing their musings. One commenter surmised that an equal balance is important. "I think an equal balance of the two...motherhood is never perfect all you can do is your best and when she grows up she will understand all that you did for her," they wrote.
Other commenters shared personal stories of parenthood, including one who advised Pink to teach by example. "There are no perfect parents and YOU know your child's needs better than anyone!" the follower commented. "When she needs Love you'll give it, when she needs truth vs. 'sugar coated' you'll give it. We teach by example (so yes she won't be perfect either lol) Love and respect for others are a great foundation..."
And another complimented Pink and Hart's parenting styles, advising the celebrity mom to go with the flow. "I think you're wonderful free spirited parents. Let you're [sic] children grow their own beautiful personalities," the fan chimed in.
Pink has actually spoken about her parenting style on several occasions, including in an interview with British newspaper The People in December. She told the paper, as reported by The Mirror:
We are a very label-less household. Last week Willow told me she is going to marry an African woman. I was like: "Great, can you teach me how to make African food?" And she's like: "Sure mama, and we are going to live with you while our house is getting ready."
The singer has made headlines for reportedly raising her kids in a gender neutral household, which means she is not shoving any gender roles or stereotypes on them. Gender neutral parenting involves allowing your child to choose what clothes they wear and which toys they play with, no matter the gender it may be associated with.
Additionally, during her VMAs speech this past August, Pink shared a powerful story about her daughter's insecurities in having an androgynous look — which Pink does as well. When Willow expressed these feelings, Pink told her she was beautiful, and she passionately encouraged her to be herself, and not to change for anyone. You can read the moving speech in its entirety here.
It's clear that whichever route Pink continues on when it comes to raising her children, she has already made plenty of great choices and she's far from the only parent facing these same worries.