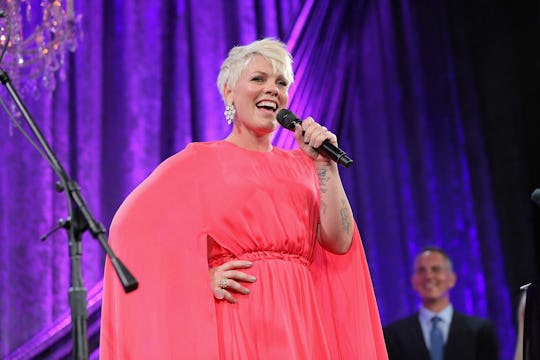 Chelsea Lauren/Getty Images Entertainment/Getty Images
Pink Had The Perfect Response To A Troll Who Called Her "Old"
No one is safe from trolls on social media, even stars most of us consider pretty flawless. Take Pink, for example, who's not only a badass musician, but an outspoken advocate for the LGBTQ community, women, and parents who can't be bothered with striving for perfection. Seriously, what's not to adore about her? Apparently for some people, her age and appearance. This week on Twitter, a troll called Pink "old" like it was a bad thing and they were promptly called out by the pop star herself in the best way possible. See? Pink really does do it all.
On Tuesday, someone tweeted at her, "Wow Pink looks so old that should be named Purple instead." She could have brushed it off, but Pink made sure to put the hater in their place. She quote tweeted the jab and wrote "You must be from la. Well, there are a few people left in the world that choose to age naturally. And I've earned every fucking minute of my 38 years. How you lookin though? Cause I never heard of ya till you put my name in your mouth. I shall call you little purple troll." As you can see, she didn't mince words with this person, but no one needs that kind of negativity in their lives.
Fans immediately joined in on Twitter, coming to Pink's defense. Not that she needed it, of course, but it was nice to see so many people take a stand against ageism and cheer her on. One fan tweeted to her that they couldn't wait to see her still performing at 80 years old. "And if you're still doing aerial stunts, all the better," they added. Pink responded, "You know I will! I'll call it "the wrinkles and rolls tour." Let's all remember to hold her to that when the time comes.
Pink was right to call out the troll who joked about her age and draw attention to just how inane their comment was. Women have been told since the beginning of time that their value is based on their ability attract men and procreate, which is total BS. Sometimes, it feels like getting older is a thing only men are allowed to do without being punished in some way for it.
Think about it: You really never hear people talking about how old a male rockstar is (or actor, or president, or next door neighbor, the list goes on) as if it's an insult. Instead, people usually cheer a man's "dignified" grey hair and his abilities while we encourage women to hide signs of age and talk about their accomplishments "despite their age."
That's why ageism is fundamentally a feminist issue. Placing value on a woman's appearance, which usually gets lumped in with her age, is objectifying them. Just like this troll did when he deemed Pink too old to even be herself. (The name "Purple" just doesn't have the same ring to it, though.) We should all be lucky to be able to "get old," as Pink explained in a subsequent tweet on Tuesday. She wrote:
I am of the mindset that it's a blessing to grow old. That if your face has lines around your eyes and mouth it means you've laughed a lot. I pray I look older in 10 years, cause that will mean I'm alive.
Then again, there are people who don't like their wrinkles, grey hair, or achey backs. Some of that fear of looking "old" might be internalized ageism, but it might also just be someone's personal preference. Either way, it shouldn't matter. Whether a woman wants to flaunt her age or spend thousands of dollars on anti-aging skin cream is no one's business. It'd be nice if everyone could just get on board with that and save everyone the time of having to silence mean and ageist internet trolls.
For the record, Pink is 38 years old, has been performing for almost two decades, gave birth to two beautiful children she co-parents with her husband Carey Hart, and packs stadiums with thousands of adoring fans. In absolutely no universe is Pink "old" or "washed up." And even if she was a decade or three older doing all of that, it would be nothing to be ashamed of. So good on Pink for setting the record straight.