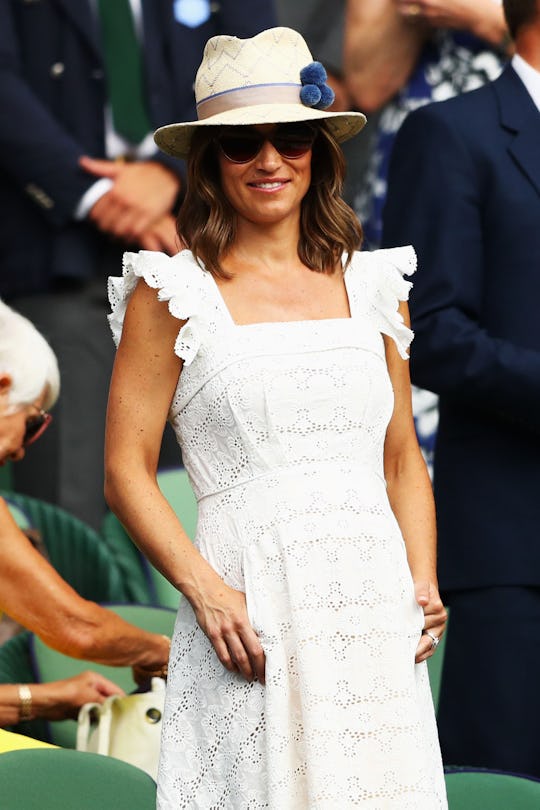 Michael Steele/Getty Images Entertainment/Getty Images
Mom-To-Be Pippa Middleton Is Officially An Aunt Again!
Just when you thought things across the pond couldn't get any more exciting, Pippa Middleton became an aunt again for the fourth time on Wednesday. The special delivery — a baby boy — arrived only months before Catherine, Duchess of Cambridge's sister is set to welcome her first child into the world. Translation: Middleton's bundle of joy will grow up with a lot of loving cousins by his or her side.
Middleton and her husband, financier James Matthews, are probably feeling really grateful for their niece and nephews right about now. It's always a plus for first-time parents to have built-in practice kids before their newborn arrives, and one can imagine the two have sought out tons of parenting advice from Duchess Catherine and Prince William. Making matters even more fortuitous for the expectant parents? Matthews' brother, Spencer Matthews, welcomed his first son on Wednesday in London, according to People. Spencer's wife, model Vogue Williams, gave birth to the little guy only three months after Middleton confirmed her pregnancy via her column for U.K. supermarket monthly magazine, Waitrose Kitchen.
"This morning at 3:55am, we welcomed our son into a quiet London hospital... He is beautiful and healthy," Spencer captioned a gorgeous shot himself holding his newborn's first, according to Instagram. "We feel truly blessed. Couldn't be more proud of @voguewilliams ❤️."
"This morning at 3:55am, we welcomed our son into a quiet London hospital... He is beautiful and healthy," Williams wrote in her own adorable message. "We feel truly blessed 💙 @spencermatthews."
Although the little one's name wasn't revealed, what's clear is the bond he'll likely share with his cousin-to-be. If Middleton gives birth in October — as is the rumor — the cousins will only be one month apart. How thrilling is that possibility? I imagine the two will be thick as thieves throughout their lives.
In the meantime, I bet Middleton and Matthews are taking in all of their nephew's first moments. From observing the basics (diaper changes, feedings, etc.) to basking in the love Spencer and Williams have for their firstborn, it's safe to assume the couple is quite preoccupied at the moment.
Middleton and Matthews' new nephew, however, isn't the only child who has their attention these days. The couple has a total of four nieces and nephews between them, including: Prince George, 5, Princess Charlotte, 3, and Prince Louis, 4 months.
It's important to note Matthews' half-sister, Nina Mackie, has four older children, according to ELLE: Rosa, Tristan, Lily, and Yasmina. It's not clear, however, if Matthews has a relationship with Mackie or her kids.
Of course, Middleton and Matthews already spend a lot of time with their niece and nephews. Middleton has an especially soft spot for Prince George, telling former TODAY host Matt Lauer in July 2014:
He's amazing. He's very a dear boy. He's brought a lot of pleasure and fun for all us, the whole family. He's very characterful. He's sort of brought us all together and we love spending weekends with him. He's very funny.
Aww. It's clear Middleton loves Prince George to pieces.
Oh, and who could forget how Middleton included Princess Charlotte and Prince George in her May 2017 wedding? Prince George was a page boy at the lavish affair while Princess Charlotte stole the show as a one of the bridesmaids, according to Harper's Bazaar. Cute stuff.
Even if you're not too familiar with either Middleton or Matthews, it's clear the parents-to-be are surrounded by a great group kids. In addition to their new nephew born on Wednesday, the two have a lot of little ones in their lives to prepare them for parenthood. And the best part about the couple's big family is all of the cousins their little one will get to grow up with.