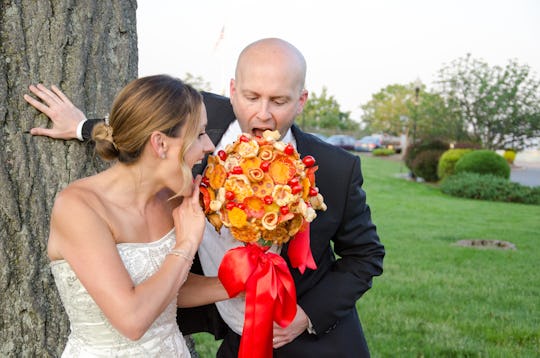 Michael Scicolone for Villa Italian Kitchen
Pizza Bouquets Are The Newest Wedding Trend You Never Knew You Needed
Just as no two brides are alike, no two weddings are either, and when it comes to finding the perfect accessories for your big day, you might have to look no further than... your takeout menu drawer. Brides are apparently carrying pizza bouquets down the aisle now, and in fact, there's even a promotional giveaway in which you can enter to have a custom pizza bouquet and bridal party accessories delivered to you on your big day.
Delish reported that the chain restaurant Villa Italian Kitchen has released a collection of pizza "roses," as in, bits of pizza rolled up to resemble flowers. They're placed together into a bouquet, and paired with bite-size boutonnieres as well. The arrangements are created with fresh dough, 100 percent whole milk mozzarella, California tomatoes, and pepperoni, Delish reported.
If you want to enter to win your own pizza bouquet and accessories, all you have to do is check out the Villa Italian Kitchen website and share your name, email, and some other details about your wedding location. But, you must enter by June 15, according to a press release from Villa Restaurant Group, so get on that. The winners will be selected at random, but if you aren't one of the luckiest brides getting to walk down the aisle with, uh, handcrafted pizza flowers, don't worry, because just for entering, you'll receive a coupon for a free slice of Neapolitan cheese pizza from the restaurant, which you must redeem between June 18 and June 22, according to the press release. Honestly, it's a win-win.
The pizza bouquet is certainly a modern trend, not only because it's pretty unique, but also because the origins of the traditional wedding bouquet point out that they once served a very different purpose. Southern Living reported that holding a collection of flowers as you walk down the aisle is actually traceable back to ancient Greece, in which brides would not only carry flowers, but also clusters of herbs and spices in order to ward off evil spirits, Southern Living reported.
However, dating back to the 15th Century, there was another purpose: to mask a bride's, uh, scent, according to HuffPost. All those years ago, indoor plumbing didn't exist, and neither did the degree of hygiene and regular showering that's common in modern times. In fact, an entire household would have to share a tub full of hot water that was heated indoors and then carried by hand outside. This is where the phrase "don't throw the baby out with the bathwater" comes from: elder males would have first dibs at a bath, and babies would go last. By the time they were being bathed, the water would be so dirty, it was like you could lose them in there. (Gross, right?)
Which brings us back to the whole bouquet thing: To further exemplify just how big of a deal the whole flowers-to-mask-BO thing was, HuffPost reported that June is traditionally the most popular time of year for weddings not just for their lovely weather, but because people took their annual baths in May. (Yes, you read that right: annual bath.)
All of this brings us back to the real issue at hand: pizza bouquets. Sure, you don't have to mask a repugnant scent anymore, and TBH, what's more appealing than a waft of freshly baked dough and melted cheese? (Not flowers, honestly.) If you don't want to splurge on having your pizza bouquet made by a professional, there are plenty of tutorials online that can show you how to create "pizza roses," or wrapped up bits of dough, cheese, sauce, and toppings so you can actually put together your own version of the accessory. It might not be for everyone, but at the very least, it would be a pretty funny gag at the rehearsal. Just be sure that the red sauce doesn't touch the white dress.