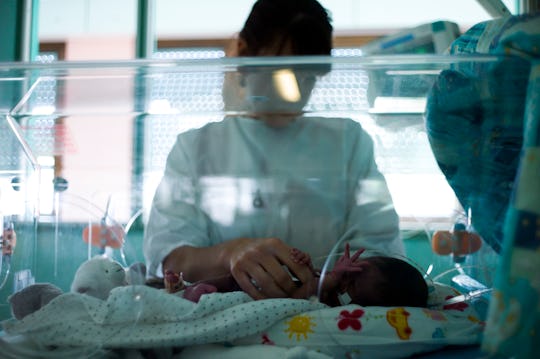 FRED DUFOUR/AFP/Getty Images
Some Postpartum Nurses Lack Crucial Education, & It's Seriously Dangerous
While other developed countries are experiencing a decline in maternal mortality rates, the United States continues to see a sharp increase in the number of women who die pregnancy-related complications. This upward trend in preventable maternal deaths has public health officials concerned, and searching for answers. Now, new research may provide some clues: Postpartum nurses lack education on health risks related to pregnancy and childbirth.
A nationwide survey of more than 300 postpartum nurses, published Tuesday in MCN: American Journal of Maternal/Child Nursing, discovered that many had poor knowledge of the warning signs associated with pregnancy- and childbirth-related complications, according to ProPublica. To that end, researchers also found that nurses who lacked critical postpartum education would be unable to inform new mothers of certain symptoms — such as breathing issues, heavy bleeding, headaches, and painful swelling — that could signal an underlying condition that, when left untreated, could be fatal.
The results of the survey confirm much of what ProPublica and NPR had learned from more than 3,100 women who survived near fatal pregnancy or childbirth complications. Those women told the outlets that their health care providers did not quickly recognize "warning signs that their bodies weren't hearing properly," ProPublica wrote Thursday.
Every year, more than 600 women in the United States die of pregnancy-related causes, while 65,000 women face life-threatening complications, according to the U.S. Centers for Disease Control and Prevention. That number, the agency reported, has only increased dramatically over the last 25 years, despite medical advancements. The majority of pregnancy-related deaths are due to heart conditions, but women also die from infections, bleeding, blood clots, and high blood pressure, known as preeclampsia, according to the CDC.
According to ProPublica, researchers learned that 46 percent of the nurses surveyed didn't know that the U.S. maternal mortality rate had increased, while 19 percent believed that number actually dipped. Only 12 percent knew about the spike in maternal mortality rates, which is three times higher among black mothers than their white counterparts, according to Vox.
Study co-author Debra Bingham, head of the Institute of Perinatal Quality Improvement, told ProPublica of the findings,
If [nurses] aren't aware that there's been a rise in maternal mortality, then it makes it less urgent to explain to women what the warning signs are.
Although the survey is eye-opening, it's not necessarily surprising. A 2006 review published in the Journal of Perinatal Education found that postpartum medical care in the United States is "a neglected aspect of women's health care." Specifically, researchers felt that women are not provided with adequate postpartum care, nor is maternal health care "emphasized in national policies or national health objectives" in the country.
What both reports suggest is that the United States needs to invest far into postpartum care and education than it already does. Not only does that include providing medically accurate education to postpartum nurses, but also creating policies that encourage and support proper and continuous maternal care. Too many mothers are dying in the United States from completely preventable and treatable complications, and it's about time that changes.