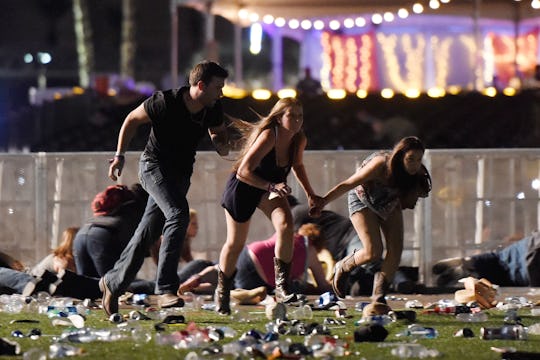 David Becker/Getty Images News/Getty Images
"Pray For Las Vegas" Memes You Can Share To Show Your Support & Heartbreak
Once again, the world is shaken by the devastating news of a lone gunman wreaking terror and death on a crowd of innocent people. With more than 50 people reported dead and over 500 injured, the Route 91 Harvest Festival stands now the deadliest attack in modern U.S. history. People looking for an immediate way to express their grief and their support for the victims and their loved ones are searching for pray for Las Vegas memes to share on social media.
Update: As of 6 p.m. ET on Monday, Oct. 2, CNN reports that 59 people have died and over 500 people were injured. Authorities say the suspect had 18 additional firearms, explosives and several thousand rounds of ammo at his home in Mesquite, Nevada.
Earlier: It may feel like a pitifully small gesture, but in this time where it feels like waking up to this kind of devastating news is no longer a surprise, joining voices together to make a statement holds power and impact.
As reports continue to come out of Las Vegas, the terrifying scene that unfolded just after 10 p.m. local time Sunday night feels all too familiar, but no less horrific. One eyewitness, Michelle Leonard, who was working in a booth near the main entrance of the concert, told ABC News that "it sounded like a thousand shots." The shooting just "kept going nonstop," she said, describing "mass confusion" and having to step over dead bodies as she and a friend fled the scene. "I turned around and I looked and people just started running," she said. "People were just running and falling and screaming..."
The Associated Press describes the scene:
"Concert-goers reported seeing muzzle flashes from the upper floors of the Mandalay Bay Hotel and Casino across Las Vegas Boulevard from the country music festival and the sound of what they described as automatic gun fire ... Witnesses said they saw multiple victims as they fled the gunfire raining down on the concert venue ... Some later huddled in the basement of the nearby Tropicana hotel-casino ... Some officers took cover behind their vehicles while others carrying assault rifles ran into the Mandalay Bay Hotel and Casino."
Singer Jason Aldean was performing when the gunfire broke out, reports The New York Times. He took to social media to express his sorrow and dismay. "Tonight has been beyond horrific," he wrote on Instagram. "I still don't know what to say but wanted to let everyone know that Me and my Crew are safe. My Thoughts and prayers go out to everyone involved tonight. It hurts my heart that this would happen to anyone who was just coming out to enjoy what should have been a fun night."
And now, all over the nation and the entire world, people are taking to social media to share their grief and solidarity, even when no one has any answers.
People Are Sending Simple Messages Of Love...
People Want To Help...
People are already lining up to give blood: According to KTNV Channel 13 Action News in Las Vegas, the parking lot in a local blood donation center was full at 3:48 a.m. Monday morning. It's heartening to know. But with over 500 people reported injured, donating blood is one solid way to take action.
People Hope The World Can Heal...
As more and more details come to light, and the loss of life starts to be connected to names and faces, the world's heartbreak will grow.
People Are Being Honest In Their Raw Grief & Fear...
Many People Are At A Loss For Words...
And Still Others Are Pleading For A Better World...
The words and images are simple, but the message is powerful...
It doesn't really matter what kind of message you choose to share ... in this world filled with anger, hate, violence, and ignorance, ultimately I believe that it matters when voices rise up for love and for peace. Even — or maybe especially — when the darkness seems overwhelming.