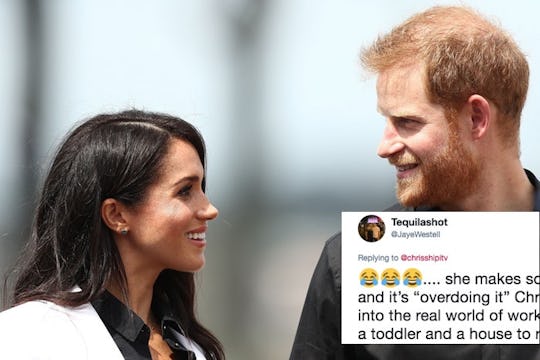 Mark Metcalfe/Getty Images Entertainment/Getty Images
People Are Giving Pregnant Meghan Markle A Hard Time For Resting While On Tour
Right around the time the Duke and Duchess of Sussex were set to arrive in Australia to kick off their 16-day royal tour, Kensington Palace announced that, oh yeah, they also happen to be expecting their first child together. Still, Meghan Markle somehow managed to keep up with the tour's jam-packed schedule — she even whipped up a homemade banana bread for one appearance — but it now sounds like the hectic pace is starting to take its toll. Royal correspondents have confirmed that pregnant Meghan Markle is scaling back her royal appearances for the remainder of her trip, according to Cosmopolitan, and while that seems entirely reasonable, not everyone actually feels that she's deserving of sympathy.
The duchess is currently thought to be about four months into her pregnancy, according to Express, and while she's revealed that her first trimester went smoothly, anyone who has ever had a grueling pregnancy can likely understand why she may have hit a wall at this point in her trip. The couple's tour schedule, after all, involves visiting four countries — and completing a whopping 76 public engagements — in just over two weeks, according to People, and as someone who personally spent the first four months of her own pregnancy lying on the couch trying to not vomit, I can definitely appreciate why that may have been a tad ambitious.
On social media though, some have argued that, well, the fact that she's even able to step back from her obligations shows how privileged she is compared to most pregnant women.
Over the weekend, royal correspondent Omid Scobie tweeted that Prince Harry would be attending more events solo in order to give the duchess needs a bit of a break during the remainder of the tour. On Saturday, that meant that Duchess Meghan stayed back while Prince Harry handed out medals to cyclists at the 2018 Invictus Games, and when asked about her absence, Prince Harry reportedly told the athletes that his wife was "resting back at home" and that "being pregnant takes its toll," according to Scobie.
On Sunday, the prince once again handled the royal tour duties by himself, meeting with local elders from Fraser Island's indigenous community, and then embarking on a walkabout at Kingfisher Bay. And it sounds like that was a very good call: in a tweet, Scobie described his own drive to cover the prince's appearance at Fraser Island's K'gari Forest to be "a somewhat stomach-churning drive" involving "12 [kilometers] of extremely steep and bumpy sand tracks." Or, in other words, complete and total misery for a newly-pregnant human.
In addition to the less-than-ideal conditions of some of the scheduled appearances though, Duchess Meghan has also been battling a mix of travel-related jet lag and pregnancy-induced insomnia. During a recent visit to Sydney's Bondi Beach, the duchess revealed that she'd been having a hard time sleeping, according to INSIDER, and that she'd actually ended up getting out of bed at 4:30 a.m. that morning to practice yoga in her room. (And unfortunately for Meghan, chances seem good her pregnancy sleep issues will only intensify as she gets further along.)
On Twitter though, some users felt that all the fuss being made over the duchess' pregnancy and her need for rest ignored the fact that, no matter how busy or tired she may be, she still had it so much better than most pregnant women:
It is true, of course, that few women have the same opportunity Meghan does to actually step back and take a break from her duties while pregnant — and even those who do don't usually have the added benefit of household staff to cook her meals, do her laundry, and generally make sure she's feeling as well as possible. Yet, if anything, the disparity that exists between Meghan and most women who work during their pregnancies should probably be a sign that, instead of shaming Meghan for slowing down, we should actually be encouraging all women to take breaks when they need them (being pregnant really is rough for most women, after all).
Then again, the fact that Meghan has married into the British royal family has also always meant that there would inevitably be people who want to criticize her every move, and this seems no different. But whether or not you're a fan of the royals, giving a pregnant woman a hard time for being tired seems completely uncalled for. And honestly? Any woman in her position would likely make the same choice.