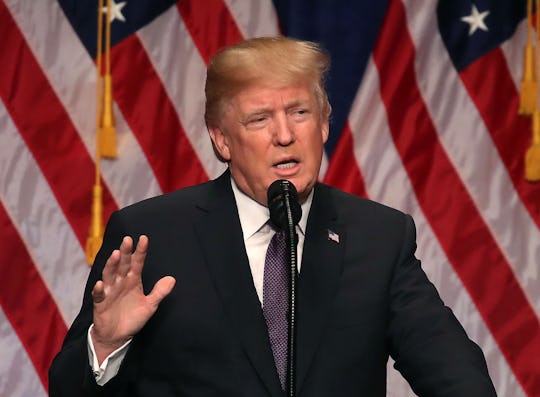 Mark Wilson/Getty Images News/Getty Images
People Are Furious About President Trump's Response To The Amtrak Train Derailment
On Monday, an Amtrak train making its inaugural trip on a new route derailed over a state highway in Washington state, killing several passengers and injuring multiple others, according to CBS News. Reactions began to flood social media following the deadly accident, with many users, including President Donald Trump, offering their thoughts and prayers. But the one difference between the president and everyone else: President Trump's response to the Amtrak train derailment was ignorant at best, callous at worst.
At 12:41 p.m. Eastern Time, Trump tweeted to his account, according to CBS News,
The train accident that just occurred in DuPont, WA shows more than ever why our soon to be submitted infrastructure plan must be approved quickly. Seven trillion dollars spent in the Middle East while our roads, bridges, tunnels, railways (and more) crumble! Not for long!
Why, exactly, was Trump's tweet ignorant and callous? For two reasons: One, he politicized a decidedly non-political event (a train derailment is not the same as a mass shooting, to get that out of the way). Two, Trump blamed poor infrastructure on exorbitant spending in the Middle East — spending, by the way, that he has wanted to increase — instead of the cuts he made to the Amtrak budget.
It's the latter point that takes precedent when discussing the insensitivity of Trump's Monday afternoon tweet. The president said in August that he intended to increase the presence of the U.S. military in Afghanistan, where the country has waged a 16-year war, according to Vox. The Trump administration planned to send more than 3,000 troops to the war-torn country, which would bring the total number of soldiers to at least 14,000 serving, Vox reported.
How much does it cost to keep just one soldier working in Afghanistan? As of 2012, the government spent up to $850,000, and rising, per service member, according to CNN. The Center for Strategic and Budgetary Assessments, an independent public policy research nonprofit, estimated at the time that the average cost per troop per year was $1.2 million, CNN reported.
A conservative calculation would put spending on additional troops at more than $20 billion. That's $20 billion on top of the nearly $5 trillion price tag to fund the wars in the Middle East, according to a Brown University study released in September of last year. Brown University researchers also estimated that spending would jump to $7.9 trillion by 2053; Trump will be president for three of those years.
Then there's the matter of Trump's lackluster infrastructure plan. The president's proposed 2018 budget would reduce federal transportation spending from $18.6 billion to $16.2 billion — in other words, a 13 percent reduction, according to Trains. And what accounts for the majority of that spending cut? Money allocated to Amtrak.
That's right: In Trump's proposed budget, Amtrak would see a $630 million cut to the subsidies used to fund its long-distance service, Trains reported. Amtrak funding last year came in at $1.404 billion, according to Trains; a loss of $630 million would mean nearly half of its budget is gone.
How could the Trump administration justify such a significant slash to Amtrak's federal budget? By being counter-intuitive. According to Trump, long-distance Amtrak trains are often late and operate at a loss, which warrants a drastic cut, USA Today reported. One would think, though, that a loss of funding would only exacerbate those issues.
Trump did eventually offer his "thoughts and prayers" and "deepest sympathies" to the victims an hour after his initial tweet on the Amtrak train derailment. It's funny, though: During a tragic time in which sending thoughts and prayers would have been appropriate, Trump couldn't even get that right.