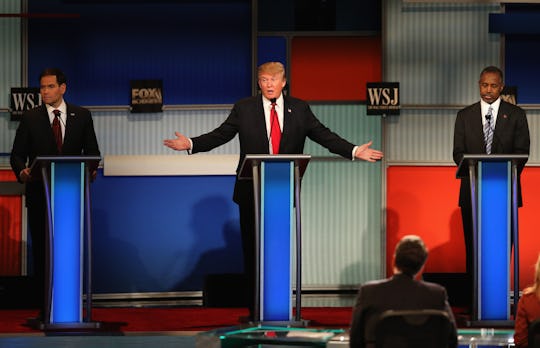 Presidential Candidates' Reactions To The San Bernardino Shooting Include A Lot Of Prayer, Less Action
Update: According to officials, two of the suspected San Bernardino shooters are dead following a shoot-out with police, and one of the suspected shooters is a female. Late Wednesday authorities identified the suspects killed as Syed Farook and Tashfeen Malik, the woman, and said they had been in a relationship. Farook was a U.S. citizen and an employee of the of the San Bernardino County Health Department. Further details about Malik are not yet known. Police also detained a third individual at the scene, but it's unclear whether or not that person is connected to the shooting at the Inland Regional Center (where officials say they might have found an explosive device).
In a press conference earlier, the San Bernardino Police Department Chief Jarrod Burguan confirmed that up to three people opened fire at Inland Regional Center, leaving upwards of 14 people dead, with at least 21 additional people injured. At the time of the press conference, law enforcement was still clearing the scene, and the search for the suspects was ongoing.
Earlier: Wednesday afternoon at about 2:15 p.m. up to three active shooters opened fire in San Bernardino, Ca., upwards of 14 people and killing upwards of 14, authorities said in a press conference. As they have in response to the spate of mass shootings recently, the 2016 presidential candidates and other politicians shared their reactions to the San Bernardino shooting on Twitter.
The shooting occurred at the Inland Regional Facility, a center for individuals with developmental disabilities, and early reports indicated that there might be a bomb on the scene. According to reports, the shooting occurred in the conference area of the multi-building facility. Two of the shooters have since been caught by the authorities, and one of them has been identified as a female.
As news of the shooting spread, the 2016 presidential candidates took to Twitter to express their condolences and call for the change that has been slow in coming. There have been 352 mass shootings in the U.S. in 2015, but the country remains deeply divided about how to address the crisis.
Here's how the 2015 presidential candidates responded to the violence in San Bernardino:
Martin O'Malley Fired Off At The NRA
Hillary Clinton Vowed Not To Be Complacent
Donald Trump Praised Police
Bernie Sanders Noted The Frequency
Mike Huckabee Prayed
Ted Cruz Prayed As Well
Jeb Bush Prayed, Too
So Did Ben Carson
So Did Chris Christie
So Did Rand Paul
Lots of praying.
Image: Scott Olson/Getty Images News