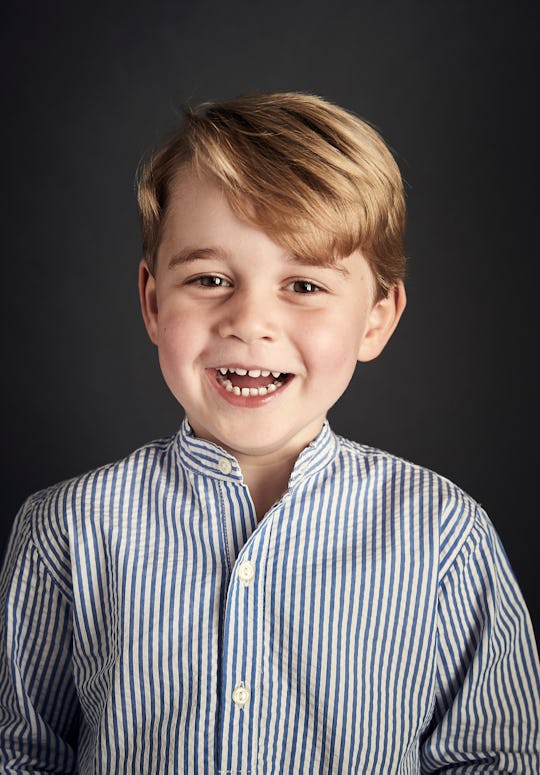 Handout/Getty Images Entertainment/Getty Images
It Sounds Like Prince George May Already Have A Dream Job In Mind
Who wants to break the news to 4-year-old Prince George that he doesn't get much say in his final career? Prince William, who's second in line to the throne and father to Prince George, who's third in line to the throne, recently opened up about the dream job Prince George possibly has in mind right now — and unfortunately, it's not king of England. Luckily, there's plenty of time before the line of succession calls for Prince George to take over the throne.
Recently, Prince William and Prince Harry attended The Met Excellence Awards at Kensington Palace, as reported by People. The royal brothers met with several police officers at the event, including Officer Jayne Richardson. Richardson joked to the princes that a police district was looking for volunteers, joking that perhaps Prince William's children would be interested. "We are recruiting, actually so if George and Charlotte are keen?" she asked Prince William jokingly, as per People. The prince laughed, noting that Prince George would actually love that. "He is obsessed, actually, by the police….cars, toys, everything," Prince William reportedly said.
Richardson recalled the encounter to the Belfast Telegraph after the event. "We're only based just down the road in Kensington and I said to him 'Perhaps Prince George and Princess Charlotte could join the police cadets,'" she told the outlet. "And he said 'Well he does like the police at the moment'."
This is not the first time Prince George has expressed an infatuation with the police, as noted by Vanity Fair. In November 2017, an image of Prince George's Christmas wishlist circulated on the internet, revealing his one Christmas wish: a police car. He wrote the list at an event in Helsinki, Finland, where his father passed the note onto a Santa Claus that he spotted, according to People.
"I've seen you and I had to give you this letter," Prince William reportedly told Santa as he handed him the paper, according to People. "He hasn't written down many requests, so I think one request is probably okay." Prince George's parents never commented on whether or not Santa brought him a police car, but either way, it seems the 4-year-old's obsession with the police is not going anywhere as of now.
All that being said, it's not totally out of the question for Prince George to have a career in law enforcement before becoming the king. After all, his reign won't happen until his father abdicates the throne or passes away. And considering his father is only 35 years old, Prince George probably has at least another 60 years as a (sort-of) free agent. In fact, it's pretty common for royals to take on jobs (especially that serve the people of Britain).
Prince William worked as a military rescue helicopter pilot for seven years, and he flew his final shift for an air ambulance service just last year, according to USA Today. Prince Harry had a 10-year career in the military, according to the official royal website. He served the Army Air Corps as a Captain, and he went on two tours of Afghanistan. Plus, both princes (as well as other members of the royal Family) dedicate a lot of time to philanthropic work.
Still, Prince George may decide to go in an entirely different route with his career, considering his interests in several other fields. The tyke first learned to ski at the age of 2, and he's also taken tennis lessons, according to Harper's Bazaar. His mother, Kate Middleton, Duchess of Cambridge, also told the outlet that Prince George has an interest in fencing. And his well-roundedness doesn't stop there — both he and his younger sister, Princess Charlotte, have been learning to speak Spanish, as reported by AOL.
Basically, Prince George still has his whole life ahead of him, and it seems pretty clear that when it comes time to choose his pre-king career, he'll have plenty of options.
Check out Romper's new video series, Bearing The Motherload, where disagreeing parents from different sides of an issue sit down with a mediator and talk about how to support (and not judge) each other's parenting perspectives. New episodes air Mondays on Facebook.