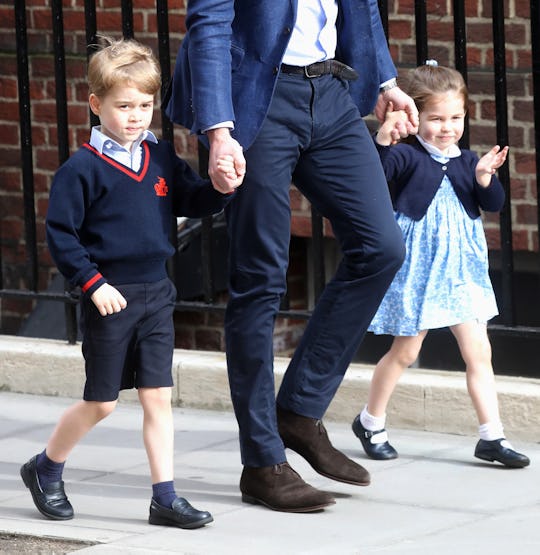 Chris Jackson/Getty Images Entertainment/Getty Images
The Sweet Way Prince George & Princess Charlotte Help Out Their Grandma Middleton
Everyone knows about Princess Charlotte and Prince George's great-grandmother, Queen Elizabeth II. She's kind of a big deal. Then there's their grandfather, Prince Charles, the heir to the throne. But what about their non-royal relations? After all, Kate Middleton wasn't always the Duchess of Cambridge; she has her own family, a family she is apparently still very close to. Lucky for her kids, because Prince George and Princess Charlotte get to help out with their grandmother's party planning business sometimes. Which is actually pretty cool and regular; something the royal kids could use when they're not on duty being super famous.
Carole and Michael Middleton, Duchess Kate's parents, have long run a successful party planning supply business called Party Pieces, which sounds pretty different from the whole royal business the other side of the family is involved in. But the young royals are apparently pretty invested in their other grandmother's business, especially when they get to play a little shopkeeper every now and then, as Town & Country reported.
Rebecca English, the royal correspondent for the Daily Mail, recently reported that Prince George was spotted at the family business in Berkshire helping out at the store front.
As English wrote in the Daily Mail, it seems the young prince and princess were spotted by a surprised shopper in the store. The visitor reportedly exclaimed in excitement, but Prince George and his grandmother were unperturbed. Possibly because the 63-year-old Middleton was giving Prince George a bag of sweets as reward for being well-behaved, as the Daily Mail reported.
This is exactly what grandmothers are for, right?
English also pointed out that the Duchess of Cambridge is pretty comfortable with her mom spoiling her kids; according to the Daily Mail, when Carole Middleton once took care of Prince George while his mother was away on an official tour he reportedly told her that "Granny gave me chips again" for dinner. And Kate Middleton reportedly thought it was funny, according to Marie Claire, which makes sense because she and her husband, Prince William, clearly put in a lot of effort to make sure their kids have as normal a life as possible.
The Middletons are apparently very close to their grandchildren, as evidenced by the Duke and Duchess of Cambridge most recent vacation plans. According to Harper's Bazaar, the entire Middleton clan was reportedly vacationing together on the Caribbean island of Mustique where the Middleton parents had perhaps been spending an annual holiday for years. Prince William, Kate Middleton, and their three children (5-year-old George, 3-year-old Charlotte, and 3-month-old baby Prince Louis) are apparently all on holiday with Carole and Michael Middleton, as well as Kate's sister Pippa and brother James Middleton, according to Harper's Bazaar. The island of Mustique is small and private (while also obviously luxurious because come on), which means the family can enjoy a holiday in peace and seclusion together.
Prior to jetting off to Mustique, Carole Middleton and the rest of the family attended Prince Louis' christening in Chapel Royal at St. James Palace alongside members of the royal family, including the Duke and Duchess of Sussex. It was probably a pretty exciting time for the proud grandmother, especially considering she is expecting her fourth grandchild later this year. Pippa Middleton is expecting her first baby with husband James Matthews, which means the royal children will have a younger cousin to play with soon enough.
The Middleton grandparents could very well be the perfect secret weapon for the Duke and Duchess of Cambridge in their efforts to raise their children in a somewhat normal environment. A grandmother who spoils them and teaches them about a very different family business, one that probably only sees pretend crowns rather than real ones, sounds like a lovely escape to reality.