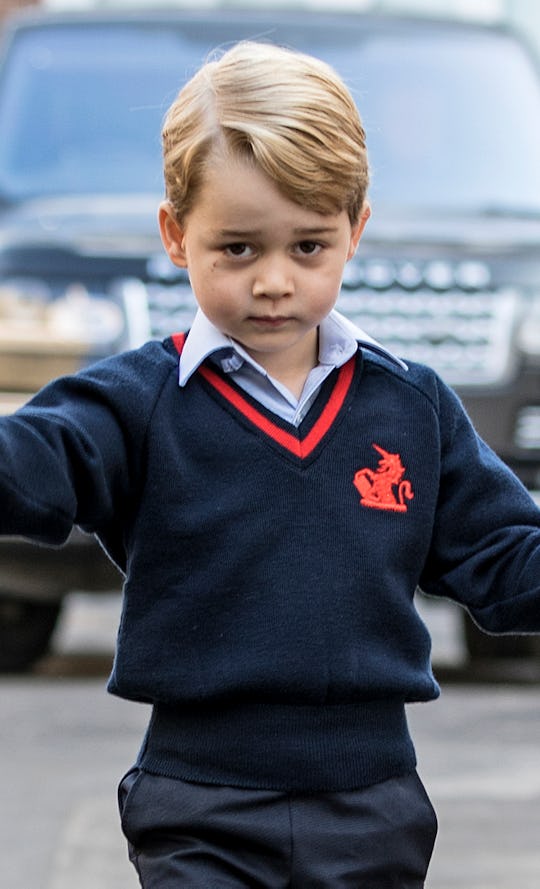 WPA Pool/Getty Images Entertainment/Getty Images
Prince George's Fancy School Lunch Menu Will Make Your Stomach Growl
No Lunchables or turkey roll-ups here, folks! As much as Prince William and Kate Middleton seem like just a regular couple now that they're juggling two busy schedules, numerous professional commitments, three kids and two schools, I am sorry to report that some things really do get better when you throw in money and royal titles. Class meals, for instance. In fact, Prince George's school lunch menu has no traditional kid food on it whatsoever, and, honestly, sign me up and pass me a fork right now.
Prince George's school, the well-known Thomas's Battersea private academy in London, is obviously full of fledgling foodies, judging by its website — which has an entire section devoted to "catering." From there, the hungry viewer can see a list of lunch options that would dazzle any grown-up palate, from a "Freshly-Prepared Free Range Chicken and Mushroom Topped with Sauté Potato," with sides including "Mini Corn On The Cob and Oven Baked Sauté Potato" on a sample Tuesday to "Spinach and Ricotta Tortelloni In A Tomato Sauce" on a given Thursday.
As for specialized vegan and gluten-free menus, as seen on the school's wesbite, those options include "Freshly Prepared Vegan Chestnut Mushroom" and "Pak Choi Stir-Fry" and "GF Lamb Tagine, GF Pasta Salad and Bfree Bread." And FYI, this list doesn't include the mid-morning snack and dessert options including "Organic Milk Or Water and Soreen Mini Banana Loaf" and "Oven Baked Red Berry Cookie With Mini Fromage Fraise."
And that's only one week's sample menu! Another week's listings, as seen on the school's website, include the mouth-watering "Freshly Prepared Traditional Chicken Paella, Flash Roasted Peppers and Peas and Deep Fried Potato Croquetas"
All menus currently listed on the site are from the 2017 school year, but who knows how they might change with Prince George's 2018 school year starting Sept. 6.
The well-known institution clearly prides itself on its cuisine as well as its classrooms, as evidenced by the presence of a school dietician, and the online explanation of its culinary approach, which states:
Each term the catering team develop a range of ideas and dishes with an emphasis on healthy cooking, full flavour and presentation... Our goal is to not only persuade pupils to eat but, more importantly, to enjoy a balanced diet whilst at school.
Sure sounds good to me.
Prince George's school educates 560 London-residing children between ages 4 and 13, and is divided into Lower, Middle and Upper Schools, according to TIME. And if such delicate-yet-savory menus sound fit for, well, a future king, there's good reason they should. Business Insider lists 5-year-old Prince George's tuition as clocking in around $24,000 a year. However, school lunches like this are likely going to cost extra, as they would at American private schools, as HuffPost noted. Also, wishful would-be royal diners will be happy to know that the school has a "no-nut" policy, in accordance with the growing allergy epidemic.
While I can't imagine that Prince George isn't looking forward to his tasty school lunches (hopefully in addition to seeing his friends and learning in class), it remains to be seen if dad — that is, Prince William — will do a royal surprise drop-in at the cafeteria, as he did at a Catholic school in Stevenage, England in January 2016, as Hello! Magazine reported at the time.
It seems Prince William was volunteering as an air ambulance co-pilot, according to Hello! Magazine, and he and his crew grabbed a quick school lunch between transporting doctors and patients to a nearby hospital, amazing students in the process.
I just can't wait to hear more about the young royals' educational progress this fall. They are absolutely adorable, and hey, if lunch at Prince George's school isn't the best this year, you can always head over to Princess Charlotte's school and see if something better is out for dessert.