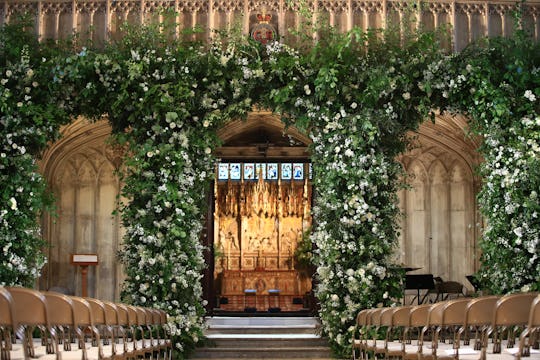 WPA Pool/Getty Images Entertainment/Getty Images
Prince Harry Asked A Gospel Choir To Perform This Touching Throwback, So Prepare Your Tissues
As if the wedding of Prince Harry and Meghan Markle wasn't emotional enough, the couple's apparently going into overdrive to really pull at our heart strings. That Prince Harry.... who knew he had it in him? He clearly wants his wedding day to be special, and we all know what that means, of course: everyone crying buckets of tears. Prince Harry asked a gospel choir to perform this touching throwback during the ceremony, so grab your tissues and get ready to lose your minds, guys.
As with everything else with Meghan Markle and Prince Harry, who are now known as the Duke and Duchess of Sussex, they were decidedly careful about doing things their own way. Breaking with royal wedding tradition, Markle was walked partway down the aisle by Prince Charles, and after her father's last minute cancellation due to health concerns. But the American actress ultimately walked herself down the aisle in a lovely feminist statement, giving herself away to her prince. Prince Harry plans to wear a wedding ring, while his older brother Prince William does not, and their music choice was especially moving. Karen Gibson and The Kingdom Choir from southeast London sang the 1961 Ben E. King classic "Stand By Me" during the ceremony, and it was a truly beautiful moment.
The quintessentially American song actually played before the Archbishop of Canterbury presided over Markle and Prince Harry's wedding vows at St. George's Chapel in Windsor Castle, and after Bishop Michael Bruce Curry's address. After a difficult week prior to the wedding filled with family drama, particularly for Markle, the song felt especially fitting. Prince Harry has reportedly been a constant source of support and comfort to Markle as her father withdrew from walking her down the aisle just days before the wedding due to a heart condition, not to mention some unconscionably bad behavior from her two half-siblings. So when the gospel choir sang those famous words, it felt particularly momentous.
Without going into too much detail, let's simply say this: Meghan Markle's half-brother and half-sister have been making the tabloid rounds in the weeks before her wedding to Prince Harry, trying to discredit her and embarrass her. Then her father backed out of walking his daughter down the aisle in a series of confusing events... it must have been incredibly stressful for Markle. And Prince Harry has reportedly been beyond supportive throughout the ordeal, proving that he's got the chops to be a wonderful husband.
When Karen Gibson and the Kingdom Choir brought their soulful vibe to sing "Stand By Me," it was impossible not to make the connection between Markle's difficult week, her new husband, and the meaning of the song:
When the night has come/and the land is dark/And the moon is the only light we'll see/No I won't be afraid/no I won't be afraid/Just as long as you stand/stand by me.
The wedding day of Prince Harry and Meghan Markle ended up being spectacular. Filled with sunshine, Hollywood stars, royalty, and more fascinators than a person could possibly count. Markle's dress was absolutely stunning, and the royal family was all out in full force to support her. Her mother stood by her, and her friends were there for her as well.
But at the end of the day, there was one man who really stood by her. The man she walked herself down the aisle to stand by herself. Prince Harry, Meghan Markle's new husband. The man who has now vowed to stand by her for the rest of his days. With his words, his actions, and of course, a special song dedicated to the couple.