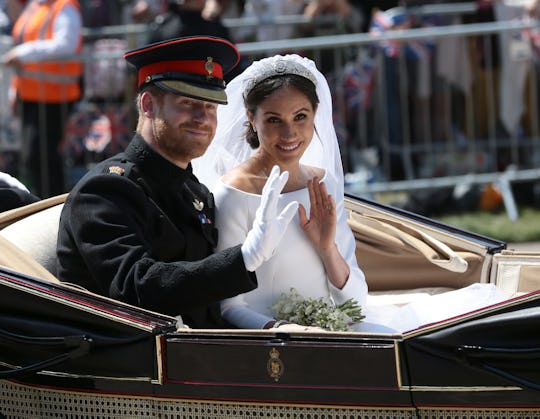 WPA Pool/Getty Images Entertainment/Getty Images
Prince Harry & Meghan Markle's Wedding Portraits Compared To Prince William & Kate Middleton's
Just two days after Meghan Markle and Prince Harry traded vows at St. George's Chapel at Windsor Castle, Kensington Palace took to Twitter on Monday to release the couple's official wedding portraits. Of course, fans have a lot to say about the gorgeous pics, and some people are busy comparing Prince Harry and Meghan Markle's wedding portraits to Prince William, Duke of Cambridge and Catherine, Duchess of Cambridge's April 2011 wedding snaps. So, how do Prince Harry and Meghan Markle's wedding portraits compare to Prince William & Kate Middleton's? It's clear the royal family has evolved in a few key ways.
Throughout Saturday, fans enjoyed stunning snaps of Meghan and Harry at their nuptials. From a shot of Meghan walking down the aisle in her custom-made Givenchy dress to an artistic snap of the couple in their horse-drawn carriage, the photos of the nuptials were nothing short of magical. The only thing missing from that special day, however, was the official wedding portraits. Luckily, Kensington Palace's Twitter account (I need to know who's managing that, BTW — talk about a unique job) took to Twitter early Monday morning to release the portraits to the public.
"The Duke and Duchess of Sussex have released three official photographs from their Wedding day," the official announcement read, according to Twitter. "These photographs were taken by photographer Alexi Lubomirski at Windsor Castle, following the carriage procession."
The photo — featuring the royal family's big players — was followed up with two additional portraits.
The second photo shows Harry and Meghan posing with the kids who helped out with the wedding. "The Duke and Duchess of Sussex with the Bridesmaids and Page Boys, taken by photographer Alexi Lubomirski in the Green Drawing Room of Windsor Castle," the caption read, according to Twitter.
Photo number three — arguably the most stunning — depicts Harry and Meghan embracing on a staircase. "The Duke and Duchess would like to thank everyone who took part in the celebrations of their Wedding," Kensington Palace wrote about the photo. "They feel so lucky to have been able to share their day with all those gathered in Windsor and those who watched on television across the UK, Commonwealth, and around the world."
Now that you're all caught up with Meghan and Harry's wedding portraits, here's how the pics stack up to Kate and William's wedding shots.
Diversity
You can't talk about Kate and William's wedding photos versus Meghan and Harry's without discussing diversity. Obviously, Meghan and Harry's main portrait features people of color while Kate and William's does not. Making matters even more notable is that this is the first royal portrait in England to feature people of color, according to Elle Australia. Yep, Meghan and Harry's royal wedding portrait is historic.
"I cannot believe watching this royal wedding actually made me cry," author Terry McMillan said on the topic of the royal family becoming more diverse, according to Twitter. "But it is for so many reasons and I believe everyone gets it. Meghan has changed the hue of the Royal Family and I hope, respect and acceptance of people of color in England. She's all in."
Well-said, McMillan.
More Kiddos
Many fans (especially parents) probably noticed that Meghan and Harry's wedding portrait features a lot more kids. While Kate and William's wedding photo showcases six little ones, Harry and Meghan's boasts 10. Harry and Meghan's group of 10 is not surprising when you consider they had two family members to include (Prince George and Princess Charlotte) and their friends' children. The royal family continues to grow, and that's awesome.
The Vibe
The most notable difference about the royal portraits is the vibe. Take Meghan and Harry's black and white couples shot, for instance. While Meghan and Harry look relaxed and casual in their pic, Kate and William's photo is much more formal. Of course, there's no *right* way for a wedding portrait to look. To each their own, right?