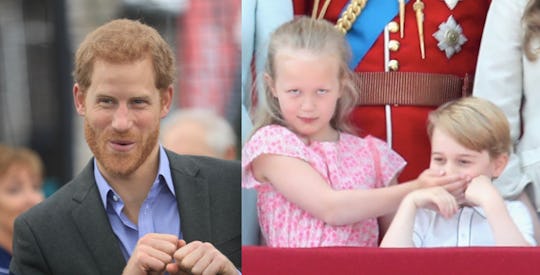 WPA Pool/Getty Images Entertainment/Getty Images/ Chris Jackson/Getty Images News/Getty Images
Prince Harry Hushing His Cousin On The Palace Balcony In 1990 Will Give You Major Déjà Vu — PHOTO
Some things just run in the family, even if you don't realize it until decades later. You may walk the same way as your grandfather, but you never met him. Or you may have some of the same mannerisms as your aunt, even though you never knew her. Or, in the case of the British royal family, you may try to mirror your relative in the same way. Case-in-point: Prince Harry shushed his cousin on the palace balcony in 1990, just like Savannah Phillips did to Prince George this past weekend. Safe to say, "The Hushing of Prince George" is the sequel to this royal story.
Here's what went down: Nearly three decades ago, in 1990, a young Prince Harry of Wales stood on the palace balcony in front of his mother, the late Princess Diana, and used his hand to cover the mouth of his cousin, Princess Beatrice, according to the Daily Mail. Prince Harry was 6 years old at the time of this past shushing incident, and Princess Beatrice was almost 2 years old, as the Daily Mail reported.
Fast forward almost 30 years later. Savannah Phillips is standing in the same spot, covering Prince George's mouth this past Saturday during the Trooping The Colour to celebrate the Queen's official birthday, according to Town & Country. In the words of Lattrice Royale: "The shade of it all."
Of course, Savannah totally stole the show. Take a look at the picture that stole the moment, and you can tell that she knew the cameras were on her. As People pointed out, the Queen's eldest great-grandchild flashed a mischievous smile as she covered her 4-year-old cousin's mouth while standing on the balcony of Buckingham Palace. And in another shot, Peter and Autumn Phillips' 7-year-old daughter is telling Prince George to shush with a finger to her lips, according to People.
But it seems Savannah was just trying to keep both of their composure. A royal observer at the Trooping The Colour told People:
Savannah pretended to conduct as the national anthem was playing, and George joined in the fun. But when Savannah realized it was probably not what they should be doing, she stopped George from saying any more.
Honestly, I can relate with Prince George on this one. Sometimes you're a little kid who just wants to let loose. What's wrong with that?
Savannah, though, isn't the only one who takes after Prince Harry. Photographers have well-documented Prince Harry's love of sticking out his tongue when he was a child, and it seems his little niece may follow in his footsteps.
By now, you've most likely seen the picture: Prince William and Kate Middleton's 3-year-old daughter stuck out her tongue at photographers while riding in a car during the royal wedding festivities last month. And to be honest, Princess Charlotte's adorable move was totally apropos for the day. After all, Prince Harry stuck out his tongue on his own wedding day, too. I'd say blowing a raspberry is an appropriate way for her to honor her 33-year-old uncle.
Plus, when Princess Beatrice was born in 1998, Prince Harry of Wales apparently "made a silly face" out of a car window while he was on his way to visit his cousin in the hospital, according to People. So really, Princess Charlotte is channeling her newly-married uncle to a tee.
I gotta say: I love these stories about the British royal family. It's great to see members of the royal clan acting silly when they're expected to also act proper. It shows that they're human, just like everyone else. And honestly, the world needs to see more of that.