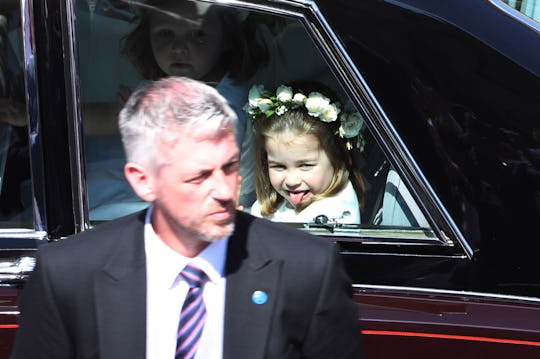 WPA Pool/Getty Images Entertainment/Getty Images
These Photos Of Princess Charlotte Vs Young Prince Harry Show They Have The Same Sense Of Humor
The royal wedding was (unofficially) the event of the decade, and even though all eyes were on the bride and the groom, all of the adorable kids who were there as well were also extremely eye-catching. Especially the tiniest members of the royal family, Prince William and Kate Middleton's two oldest children. Specifically? These photos of Princess Charlotte versus a young Prince Harry show that the two royals share a silly sense of humor.
Yes, in case you weren't able to catch the fabulous royal wedding, there were a lot of adorable moments. From Prince Harry lifting Meghan Markle's veil and telling her how amazing she looked, to Markle's own dog getting to ride with Queen Elizabeth to the nuptials, it's clear that the day was filled with all the love.
But there were also some really sweet moments that came in the form of a certain young princess. As she made clear when she arrived at the hospital to meet her little brother for the first time, Princess Charlotte is definitely not camera shy. And at the royal wedding, she stood out again, but this time, she got a little more creative. Yes, Princess Charlotte stuck her tongue out while in the car, and she might have picked up the habit from her uncle.
Now, in case the above photo isn't clear, Princess Charlotte is there on the left, sticking her tongue out at the crowds in 2018. And on the right is her uncle, Prince Harry, as a child doing the exact same thing. According to People, the now-husband,
Made a silly face out the car window after a visit to the hospital when his cousin, Princess Beatrice, was born in 1988.
Additionally, Prince Harry stuck his tongue out at the photographers on the street more than once when he was a child, as proven by the numerous photos of him doing so. And while it's obvious that the now 33-year-old was just having a good time, as kids do, it's pretty stinking adorable that his niece makes the same face.
But that's not all. Oh no. Not only did Prince Harry make the same silly face as her uncle did when he was younger, but there was actually a moment on his wedding day when the groom let his inner child out. And honestly, when your wedding is internationally televised, it's important to take a moment (or two) and just center yourself, in whatever way works. For Prince Harry, it's acting silly.
Yeah, you saw it. Prince Harry stuck his tongue out exactly like he did when he was a kid, and exactly like his niece, Princess Charlotte did on his wedding day, too. Basically, the duo is incredibly photogenic, and knowing that they share more than just some DNA is reassuring, too.
When Princess Charlotte stuck her tongue out at while in the car, she probably didn't have any idea that she was acting just like her uncle. But nevertheless, an iconic moment was born. What's more, it seems as though her presence at the royal wedding was completely welcome, in all of its forms. According to a source who spoke to People, the 3-year-old was practically the star of the show:
Charlotte was totally taking charge of them all, but very sweetly, telling the others they couldn't go down the aisle yet. Meghan looked over at them and smiled. It all felt very normal and very natural — not like a formal state occasion in any way. It was amazing.
Clearly, the toddler takes after her uncle.
Being in the royal family is probably pretty stressful, but clearly, Prince Harry and Princess Charlotte know how to have some fun.