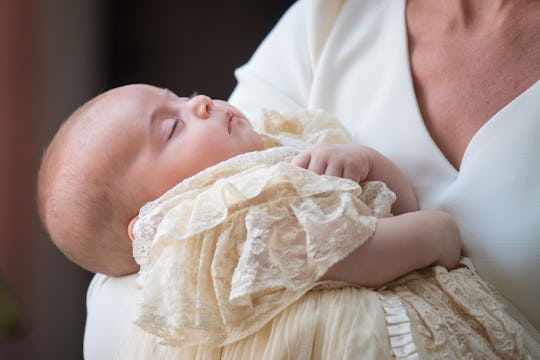 WPA Pool/Getty Images Entertainment/Getty Images
11-Week-Old Prince Louis Sounds Like The Sweetest & Chillest Baby, According To Kate Middleton
July 9 marked yet another historic and special occasion for the royal family. Members of the monarchy gathered on Monday at the Chapel Royal at St. James Palace for the christening of the newest royal, Prince Louis. The Duchess of Cambridge, Kate Middleton, looked radiant and joyful as she carried her little one into the chapel and, in a brief conversation, she reportedly revealed what Prince Louis' personality is like at just 11 weeks old, as Hello! Magazine reported, and it sounds like he's as sweet as can be.
Photos of the christening show Middleton with the most genuine smile as she appears to talk to baby Prince Louis cradled in her arms. She carried him into the chapel where the Archbishop of Canterbury stood greeting people at the door. Microphones apparently picked up her quick chat with the archbishop, during which he must have asked her what the baby has been like because she was reportedly heard answering that the little prince is "very relaxed and peaceful," according to Hello! Magazine. "I hope he stays like this," she reportedly added.
Prince Louis sounds like the sweetest baby, and his chilled-out nature is something every parent can appreciate and hope for. But, of course, he is still just a baby and he'll continue to grow into his personality as time goes on. But even before Prince Louis was born, experts were already making predictions about how things like birth order and the time of the year would influence his personality.
For example, The Independent reported that some psychologists believe that children born third or last are the most "sociable and outgoing," as well as charming. On the downside, they're also often perceived as "manipulative," according to The Independent. "Statistics show the last born is least likely to be disciplined and the least likely to toe the mark the way older children did," Dr. Kevin Leman, who wrote a book on birth order and personality, told The Independent. As a last-born myself, I can attest that this is true... much to my sister's chagrin.
April babies like Prince Louis, who was born on April 23, also seem to have something going for them in terms of being go-getters. TIME explained in a feature just how seasons impact personality, arguing that a wide array of factors like what kinds of illnesses are circulating (flu in the winter, for example) and seasonal affective disorder can impact a baby's development in the womb. April babies, as TIME explained, score high on a scale of hyperthermia, which is a measure of "general optimism."
Additionally, sibling relationships also seem to go a long way toward influencing a developing personality. According to a psychologist who spoke with The Daily Express in April, just after little Prince Louis was born, about how his birth order might impact his personality, Chloe Ward explained that "siblings shape our sense of selves, our identities, our skill sets, and ultimately our life choices." With that in mind, she also told The Daily Express that Prince Louis will likely be the "most free-spirited" of the Cambridge bunch.
Hopefully Prince George, Princess Charlotte, and Prince Louis will all grow up supporting one another as they learn to navigate what has to be a sometimes stressful experience of being under the microscope.
As for Prince George and Princess Charlotte, it seems that they have dispositions similar to their younger brother, Prince Louis, as they are (typically) well-behaved and polite in public. When seen with their family, they are generally holding their parents' hands and not making a fuss, and Princess Charlotte even has her own little royal wave down pat. Prince George does seem to have the stronger personality, as he has been seen having a tantrum or two at some public events, as reported by In Style, because he is a kid, after all. (Of course, Princess Charlotte is not immune to a royal tantrum here and there, too). But Middleton and Prince William are always quick to step in and quietly speak to them, presumably with some words of discipline and comfort, give them a hug that brings their smiles right back.
One thing is certain: Prince Louis is truly blessed to belong to a family who clearly adores their children and work hard to give them as normal a life as possible when they can. He may be fifth in line to the throne, according to TIME, but the little prince is surrounded by people who will guide, protect, and nurture him until he's ready to come into his own.