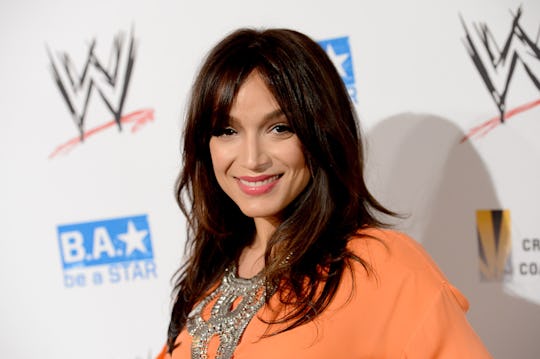 Jason Merritt/Getty Images Entertainment/Getty Images
Matye Garcia Remembers Telling Prince She Was Pregnant
There are so many ways to reveal a pregnancy. The classic bun in the oven. The slightly-annoying YouTube jingle. The surprise cake. On Tuesday, while promoting her new book, Prince's ex Matye Garcia remembered telling him she was pregnant & it's the most beautiful moment. But it leads to a heartbreaking end.
Garcia appeared on ABC's Good Morning America Tuesday to discuss the release of her new memoir, The Most Beautiful: My Life with Prince (Hachette Books), nearly a year after the singer's unexpected death. According to PEOPLE, Garcia's tell-all book reveals intimate details of their short marriage in the late 1990s, including the birth and tragic death of their infant son, Amiir.
Prince and Garcia married in February 1996, a few years after she joined his Diamonds and Pearls Tour as a backup dancer. The couple were first friends and collaborators before they became romantically involved; their relationship even served as inspiration for Prince's 1992 Love Symbol album. When asked by GMA host Michael Strahan to name her favorite memory from their four-year marriage, Garcia responded, "Telling him I was pregnant." She continued, according to PEOPLE,
He was watching a game or something, and I remember calling him over and he wouldn't come over and I was like, 'Hey!' and he looked at me. And when I told him, his face was like — it was amazing.
Garcia gave birth to their son, Amiir, on Oct. 16, 1996, after a complicated pregnancy. He was born with Pfeiffer syndrome type 2, a rare genetic disorder defined by the premature fusion of certain skull bones. According to the National Craniofacial Association, Pfeiffer syndrome develops because of gene mutations mapped in chromosomes 8 and 10, though what causes those changes is unknown. Type 2 is one of the more severe forms of Pfeiffer syndrome, which is characterized by skeletal abnormalities.
Amiir only lived for six days, according to VH1 News. In her memoir, Garcia wrote that, on the sixth day in the hospital, she saw Amiir was struggling to breath. She and Prince knew their baby wouldn't survive. At one point, she said to their doctor, "He's not leaving here, is he?" Garcia had kept private for so long about the death of their son because that was how Prince coped with the loss, she told Strahan on Good Morning America Tuesday. She went on to say, according to ABC News,
It was really hard, but it was also very liberating and healing and also honoring of him because for so many years I held it in. When we lost Amiir, I read a lot of books that helped me and I'm hoping that somebody will read this and that it will help them as well.
Prince and Garcia divorced in 2000. The 43-year-old dancer admitted in her memoir that their relationship couldn't survive the loss of their son. But she said Tuesday that she wrote The Most Beautiful as a way of honoring her late ex-husband, who died in late April of last year due to an accidental overdose of the painkiller, fentanyl. Garcia told Stratan that she wrote the memoir because she wanted to share an intimate, loving, and positive side of the iconic singer and their life together.