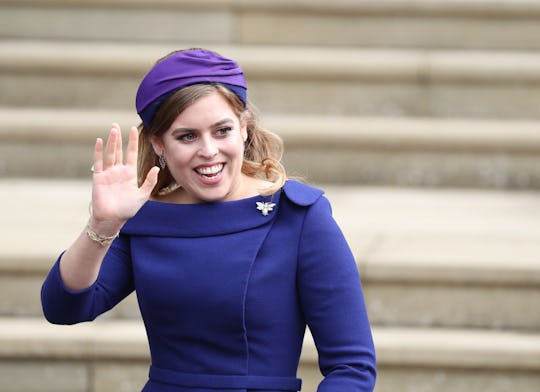 WPA Pool/Getty Images Entertainment/Getty Images
Princess Beatrice Followed Her Own Fashion Rules As Maid-Of-Honor, Of Course
In the weeks leading up to a royal wedding like Princess Eugenie's nuptials, most of the fashion-related speculation has to do with the bride's dress, naturally: Who's the designer? Will the style adhere to the strict rules and expectations followed by the likes of Kate Middleton and Meghan Markle? Secondary to these musings, however, comes the buzz about what the bridal party will wear, particularly the maid of honor (remember Pippa?). In the case of Princess Eugenie's wedding, Princess Beatrice's maid-of-honor dress came as a bit of a surprise to royal-watchers everywhere.
As you might remember, the past two royal weddings have seen bridesmaids in colors very close to the bride's gown: white or cream. (Meghan Markle wore ivory Givenchy; Kate Middleton's maid-of-honor wore cream Alexander McQueen). But Princess Beatrice, known for her eye-catching (read: outrageous) taste, went with a stunning royal blue dress (royal, how appropriate!), according to Good Housekeeping — a shade both more demure than her past choices and more colorful than what others in her position have worn. (Which is so Princess Beatrice, when you think about it.) And that's not the only way Beatrice went her own way at this particular wedding, either. While most royal maids-of-honor wear hats or fascinators, the Princess rocked a headpiece from Sarah Cant. Admittedly, this was (like her dress) much more subdued than her usual headpieces. But still: Totally original.
In a way, Beatrice's wedding attire seemed almost like an attempt to honor her sister's taste. While the siblings are just two years apart (Beatrice is older), they each have their own, very distinct, fashion sense. As Town & Country reported, Princess Eugenie explained in an interview how her sister takes more after their mother (Sarah Ferguson) when it comes to style:
"She [Princess Beatrice] loves her glamorous dresses and her hair being curly or big — like Mummy's — and I hate volume," Eugenie said. "I like my hair to be sort of flat. I like just throwing on a pair of jeans and generally being more understated. She is more 'Let's do the glamour.'"
It's certainly true that Beatrice is not known for going the understated route, wardrobe-wise. I mean, let's face it: She more or less stole the show at Prince William and Kate Middleton's wedding, when she wore a headpiece that looked like something one would wear to a tea party... if the Mad Hatter were hosting, anyway.
The headpiece was designed by renowned milliner Philip Treacy, according to People, which means it still qualified as a suitably high fashion accessory... but understated? Not quite. Still, when it came to her own sister's wedding, Beatrice knew better than to wear anything that might take attention away from the bride. No, she didn't wear cream or eggshell, nor did she wear a tastefully subtle fascinator in place of her unconventional purple headband, but a girl shouldn't have to give up her signature look entirely.
Plus, unlike Meghan or Kate, who were technically "commoners" before marrying their princes, Beatrice was born into the royal family... which means she gets a little more wiggle room to be outrageous without having to worry about losing her princess privileges. (Because who knows what Queen Elizabeth would do if her granddaughters-in-law were to wear bright red nail polish or go out without stockings?)
This article was originally published on