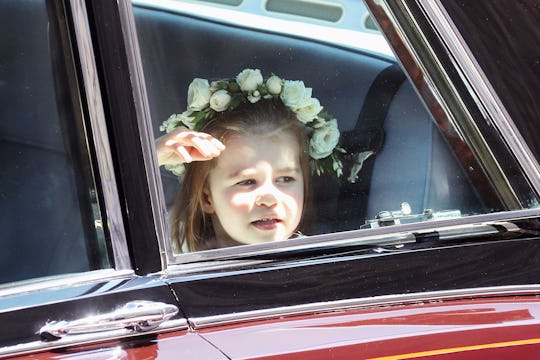 Chris Jackson/Getty Images Entertainment/Getty Images
Princess Charlotte's Outfit At The Royal Wedding Is Every Bit As Adorable As You Imagined
Far be it from me to take anything away from Meghan Markle on her wedding day, but can we just talk about her bridesmaids for a minute? One little bridesmaid specifically, of course. Meghan Markle's new little niece, 3-year-old Princess Charlotte. All of the tiny bridesmaids and page boys were as scrumptious as a hot scone (pause to appreciate British culture reference), but Princess Charlotte's outfit at the royal wedding pretty much stole the show. As did the 3-year-old princess herself.
I have to admit, when it was first announced that Meghan Markle was eschewing the American tradition of inviting her adult friends to be bridesmaids in her bridal party in favor of a gaggle of children, I was skeptical. Because I remember pretty much every wedding I've attended where children have been involved, and it can be something of a gong show. An adorable gong show, but still... parents know that any time you put together groups of children, it's something of a ticking time bomb. And Princess Charlotte, daughter to the Duke and Duchess of Cambridge, has a bit of a history of charming public meltdowns, on account of being in the public eye since birth and being a toddler. But this time around, looking adorable in her floral wreath tiara and little white dress, she couldn't have been more darling.
I mean... waving to the crowd? This kid is killing me.
Prince Harry's niece Princess Charlotte was one of six bridesmaids to accompany Meghan Markle down the aisle on Saturday at St. George's Chapel in Windsor Castle. Two of Meghan Markle's goddaughters, 6-year-old Remi Litt and 7-year-old Rylan Litt were also bridesmaids, along with 4-year-old Ivy Mulroney (the daughter of Markle's best friend, Jessica Mulroney, and granddaughter to former Canadian Prime Minister Brian Mulroney). Then there was 3-year-old Florence van Cutsem and 2-year-old Zalie Warren, goddaughters to Prince Harry. The six tiny bridesmaids probably didn't throw Meghan Markle a rocking bachelorette party, but on the plus side they were a pretty fetching group at the wedding.
Princess Charlotte was a spectacular choice for a bridesmaid for a few reasons; one, she's Prince Harry's only niece. Two, her father Prince William acted as Prince Harry's best man and was close at hand in case things went south (her older brother, 4-year-old Prince George, was a page boy at the wedding as well). And three, at the ripe old age of three years old, Princess Charlotte already as experience as a bridesmaid. In May 2017, she and Prince George were part of their aunt Pippa Middleton's bridal party. And their mother, Kate Middleton, was on duty to make sure that they behaved themselves at her sister's wedding.
This time around, Kate Middleton was not able to be as hands-on with her two older children at the royal wedding, so it was a relief to see them both behaving beautifully. Middleton welcomed baby Prince Louis on April 23, less than a month ago, and was given the best role of all at the royal wedding; guest.
Prince Harry and Meghan Markle reportedly wanted the new mom-of-three to sit back, relax, and enjoy the ceremony, and this makes me love them even more. Prince William is more than capable of handling any behind-the-scenes issues with the kids, so Kate Middleton can just hang out in one of those extraordinary hats and soak in the day. As for little Princess Charlotte; she has plenty to celebrate at the royal wedding too.
A bunch of teeny tiny bridesmaid pals to hang out with, a new aunt who seems like she's going to be fun, and a beautiful dress to boot. Ain't life grand?