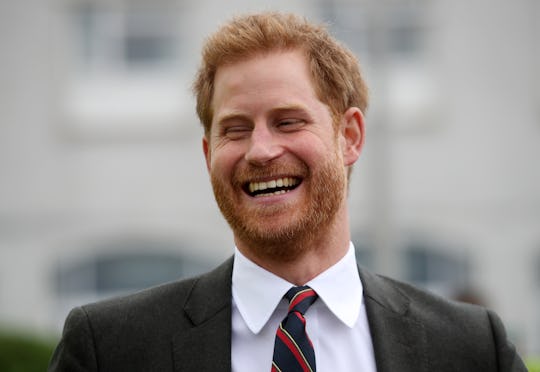 Chris Jackson/Getty Images Entertainment/Getty Images
Princess Diana Apparently Once Pranked Prince Harry With This Epic Poop Joke
As someone who might pay attention to the royal family I have to say that, like so many people, I see lots of similarities between Prince Harry and his mom. The youngest son of Prince Charles and Princess Diana has a sort of mischievous charisma, a twinkle in his eye that I suspect he got from his mom. And I also suspect she heartily cultivated an irreverent sense of humor in her son. Especially if a recent (and hilarious) report by her butler is true. It seems that Princess Diana pranked Prince Harry with a joke I would absolutely play on my own sons.
Not that I want to make any sexist assumptions, of course, but in my experience boys love a good poop gag. And it seems the royal family is no different. According to The Mirror, Princess Diana's former butler and good friend Paul Burrell had an absolute treasure of a story to share recently. Burrell admitted that Princess Diana, who died in a tragic car accident in Paris in 1997 when Prince Harry was just 12 years old, had an even more mischievous streak than some might have first suspected. Especially when it came to her sons.
Burrell, as The Mirror reported, said that Princess Diana loved getting her sons gag gifts, and one year her gift to Prince Harry was a pile of fake poo in his stocking.
How much do you love her?
As Burrell told The Mirror:
She'd spend hours looking for jokey things for their stockings. One year, Harry got fake dog poo.
That's right, a member of the British monarchy, arguably the fanciest people on the planet, apparently put fake poo in her son's stocking. And that might not even be the best part. Burrell told the news outlet that the young prince was delighted with his present and had grand plans for it. He was going to prank his grandmother, Queen Elizabeth II, longest reigning monarch in the world with a bit of fake poo.
I know how upset the Queen gets at any nail polish other than Ballet Slipper. I can't imagine how she would react to fake poo.
Although she does seem to be pretty fond of Prince Harry. Maybe she would have laughed?
While the idea of Princess Diana giving out fake poo for Christmas might surprise some, I doubt it came as much of a surprise to her sons. Prince Harry and his brother Prince William spoke publicly about their mother for last year's HBO documentary Diana, Our Mother and admitted she was always something of a "naughty" mom, according to The Daily Dish. Prince Harry said that his mother was a "total kid, through and through, and even Prince William, who strikes me as the more serious of the two men, said his mother played a super embarrassing prank on him when he was a young teen.
"I was probably a 12- or 13-year-old boy who had posters of them on his wall, and I went bright red and I didn't quite know what to say and sort of fumbled. I think I pretty much fell down the stairs on the way up. I was completely and utterly awestruck," he recounted, according to Bravo.
As heartbreaking as it is to know Princess Diana's sons lost her at such a young age, they both obviously learned loads of vital life lessons from her. For his part, Prince William is said to work very hard to make sure his children lead as normal a life as possible, just like his mom did with him. I'm sure Prince Harry will do the same if and when he and Meghan Markle have children some day.
Just as I'm fairly sure there might even be a little fake poo in one of his kid's stockings at some point... For old time's sake.