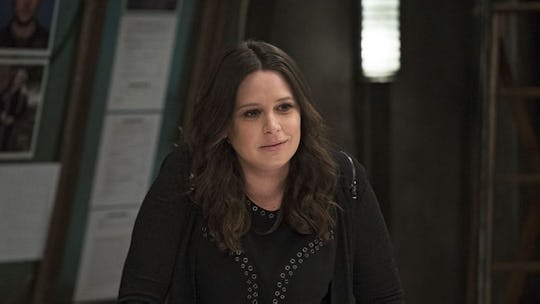 Richard Cartwright/ABC
Quinn's Fate Was Finally Revealed On 'Scandal' & It'll Leave You Shook
After several episodes of knowing next to nothing about what happened to her, we finally know that Quinn is alive on Scandal, but unsurprisingly, there are now a ton of other questions that go along with that revelation. Of course I fully expect them to be answered in the coming episodes, but at the very least, both Quinn and her baby are alive and well it seems. Thank goodness.
Until Thursday's episode, it was unclear if Quinn was alive, despite the fact that Charlie found their baby upstairs in Rowan's house at the end of "Robin." And, of course, right after that, as he was choking Rowan on the bed, the episode ended. On Thursday night, Scandal's episode "Good People" finally gave us some answers about how Rowan kidnapped Quinn, what his original intentions were, and his struggle over wanting to gain back power from Olivia while saving her and not killing Quinn in the process. The entire thing spanned the length of the episode, but a lot of gaps were finally filled in.
Even so, now it's a matter of figuring out where she was when Charlie came by the house to see Rowan and hear their baby crying. It's basically still a mess, but despite all of the new questions, we can all finally breathe a collective sigh of relief knowing that Quinn is alive on Scandal.
At the end of the episode "Robin," which dealt with Quinn's disappearance and the belief all around that she was actually dead, Charlie arrived at Rowan's house at the end and attacked him when he found the baby upstairs. The episode ended soon after, but I would be willing to bet an entire box of those tiny purple dinosaurs that Quinn was on the verge of calling Charlie off of Rowan.
There's no way she would have left the house for any reason, thereby leaving her baby behind and potentially letting Olivia know that she's alive. Plus, Rowan decided to keep her upstairs as opposed to chained in the basement again, so she was likely right around the corner when Charlie came in.
I'd also like to know how much the rest of the gladiators know by the time we get to the next episode, aptly titled "The People v. Olivia Pope." In the promo for the Scandal episode, we finally see the intervention that Olivia has needed since she took control of B613 and started to go off the rails a bit. While neither Charlie or Quinn are in Fitz's cabin in the promo, the events of the episode occur after Charlie went to Rowan's house, so they have to know more, right? Huck even flat out asks Olivia if she killed Quinn, possibly trying to get some version of the truth out of her, and there's also an open laptop on the coffee table, so they came prepared.
At the end of the episode, Quinn sort of came to terms with staying in Rowan's home for now and agreed that it's the safest place for her and it's best for Olivia to believe that she's dead. But, understandably, that also raises some questions. Katie Lowes (who plays Quinn) recently told Entertainment Weekly, she doesn't know if Olivia and Quinn will ever be able to mend their friendship after this. "I don't know if Quinn and Olivia ever come back from this," Lowes said. "Personally, I just don't really think it's possible. Of course, anything is possible in Shondaland, but come on, Olivia Pope was not a very good friend."
As it stands, I second that sentiment, but if somehow everyone can bring Olivia back from the brink of destruction during their makeshift intervention, maybe there will be some hope for her at the end of all of this.
Check out Romper's new video series, Romper's Doula Diaries:
Watch full episodes of Romper's Doula Diaries on Facebook Watch.