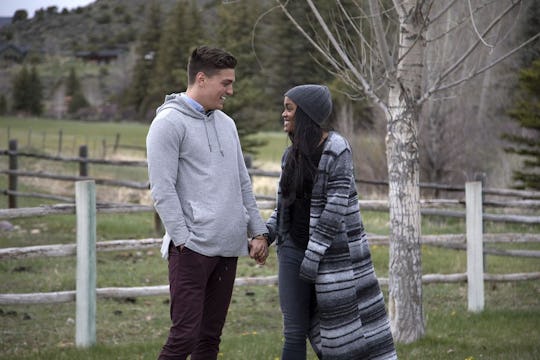 Josh Vertucci/ABC
Rachel & Dean's 'Bachelorette' Hometown Date Didn't Go Well
One of the most anticipated hometown dates on The Bachelorette this season ended up being Dean's because of his past with his father and all he'd gone through, losing his mom as a teenager. So when it finally arrived, Rachel and Dean's hometown date on The Bachelorette sent Twitter into an uproar. Not just because Dean obviously doesn't have much of a relationship with his father, but also because he and his father both had to have it all play out on TV. In short, it was hard to watch and pretty unfair for both of them.
Luckily, Dean had Rachel to endure the interactions with his dad after not seeing him for two years and instead of letting the experience drive them apart, Dean and Rachel managed to reconnect at the end of the evening and she didn't seem to be scared away by the issues Dean and his dad both have with each other.
More than anything, it's pretty obvious that the two of them have things to work on that should probably be addressed away from the show and off TV and maybe doing it on The Bachelorette was the first stepping stone to that. But Twitter definitely had a lot to say about Rachel and Dean's hometown date on The Bachelorette.
From Dean's perspective, it seems like after his mom died when he was 15, his relationship with his dad began to suffer until eventually, he grew apart from him completely. So they probably shouldn't have had their first reunion in years on national television.
Surprisingly, Rachel even said "I love you" to Dean at the end of the night, which was the first one she said to any of the men and pretty unexpected after everything she'd seen between Dean and his dad. But it was likely very much needed, even if didn't mean she was going to keep him around, unfortunately.
It's clear now that Dean's hometown date Monday night was the most intense and, in a way, the most real, but in order for things to progress Rachel had to meet the families of all of the remaining contestants, even if it was visibly difficult for Dean to go through. In a way, it was probably necessary for Dean to eventually confront his father and see his siblings, but to have to do it on The Bachelorette can't have been easy by any stretch of the imagination and seeing it play out was just difficult all around. One could argue that it was a little too much to ask of him.
At the very least, Twitter has been more than sensitive to what Dean must have gone through in confronting his father on The Bachelorette and opening up the way he did.