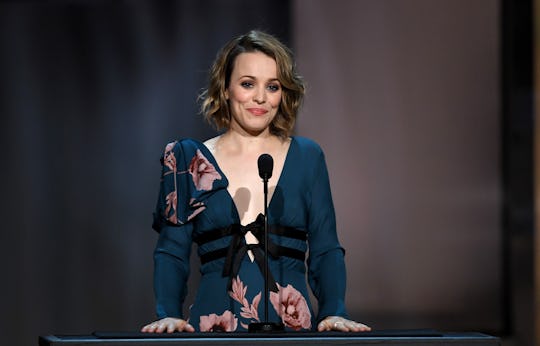 Kevin Winter/Getty Images Entertainment/Getty Images
Rachel McAdams Wore Sweats To Her First Postpartum Interview Like A Cool Mom
Rachel McAdams might be one of my favorite actresses, because she's Regina George and also Amy from The Family Stone, and don't even make me talk about The Notebook or I'll start sobbing. That being said, she's definitely not my favorite celebrity, simply because she doesn't subscribe to the idea of keeping up with celebrity-type things. Which, by the way, I totally respect. For instance, McAdams had a baby boy a full seven months ago and kept it so low-key, nobody even knew about it. And then there's this; McAdams wore sweats to her first postpartum interview, because why not? She has just discovered one of the best things about being a mom, and it's not like she's into being a flashy celebrity anyhow, right?
The Canadian actress (as a Canadian I like to point that out every chance I get) gave an interview to The Sunday Times UK recently, when she just happened to casually mention the fact that she had a baby seven months ago. However, interviewer Helena de Bertodano might have been able to guess that was the case, considering the outfit McAdams was reportedly wearing. "Grey shirt, baggy pants, and sneakers" is not exactly a carefully cultivated actress look. But it's definitely a new mom or even seasoned mom look.
While a picture of said look was unfortunately not provided, I'm imagining Amy from The Family Stone. Coffee cup in hand included.
McAdams even addressed her outfit in the interview, and to my way of thinking it seemed like she was sort of proud of it, as per The Sunday Times:
I don't even know what I'm wearing today. The shoes are held together with glue. Isn't that sad? I need to get a life ... I have clothes on and that's a good thing.
Of course, the Disobedience actress has a good reason for being delightfully unconcerned with her outfit; her baby boy. And while McAdams hadn't officially confirmed the news herself, it seems as though her Disobedience co-star, Rachel Weisz, may have (either inadvertently or intentionally) confirmed it to E! News back in April, while walking the red carpet at the Disobedience premiere at the Tribeca Film Festival:
She seems... I just saw her today. I haven't seen her for a while. She is just glowing and looking ravishing and gorgeous. She just seems to be so happy and I am just so happy for her! She had her first baby — it's so beautiful!
Though Weisz told E! News at the time that she hadn't given McAdams any parenting advice, perhaps Weisz later advised the sweats, being a seasoned mom herself.
I sort of love Rachel McAdams' version of parenting, probably because it feels pretty familiar to me. Sweatpants, hanging out with your kid... keeping it low-key.
It's probably because we're both Canadian.
This first-time mom wants to have a home birth, but is she ready? Watch how a doula supports a military mom who's determined to have a home birth in Episode One of Romper's Doula Diaries, Season Two, below. Visit Bustle Digital Group's YouTube page for the next three episodes, launching every Monday starting November 26.