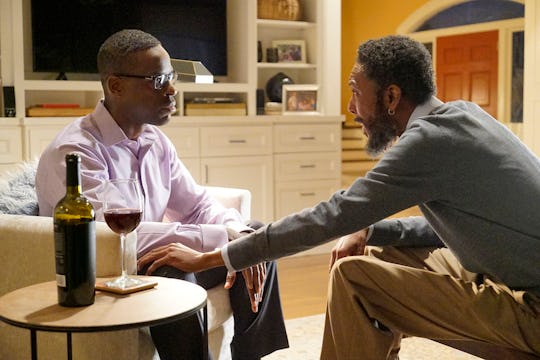 Paul Drinkwater/NBC
Randall's Speech About Race On 'This Is Us' Gives Insight Into How He Grew Up Adopted
So far on This Is Us, a big part of Randall's story has been getting to know his birth father after growing up in an adoptive family his entire life. But until now, we haven't seen much from his perspective as a black child growing up in a white family in a predominantly white neighborhood in the '80s. Then, we heard Randall's speech about race on This Is Us, as he was talking to his birth father, William, and it wasn't hard to start putting the pieces together.
You assume that because Randall grew up with two loving parents, in a good home, that his childhood and adolescence was as idyllic as possible, but being black set him apart, even if his parents tried hard not to let that happen. We see a bit of this in Tuesday's episode, "The Pool", during which Kevin and Randall fight more, clashing over pretty much everything, and we see him gravitate toward the other black kids. In the present, Randall opens up to William about how he sees the racial injustices all around him (and happening to him), but chooses to ignore most of it, for fear of harboring hatred and anger all of the time.
Randall's speech about race on This Is Us is as relevant as ever. It was sparked when the neighborhood security stopped William on the street, figuring he was a random loiterer and not related to Randall. This led to the two of them going on a shopping trip together in order to find William more "acceptable" clothes. It was there that Randall confronted William for thinking he was weak for not speaking out to the white security enforcer from the neighborhood.
Randall said that he'd noticed the security guard in the clothing store, keeping a close eye on them specifically, and that he knew he would need to show I.D. with his credit card, despite the fact that no other customers were asked to do so. He also says that he has to ignore things like this daily, so he's not constantly angry with the world. And as much as viewers may assume that, because he grew up in a middle class white family, he must be adverse to these things, it couldn't be further from the truth.
As we see today in real life, perceptions of others are still largely racially charged, and for the first time so far on This Is Us, we are starting to see that, for Randall, life is very much about race. And maybe even more so, because he grew up struggling to figure out his place in a white family. Randall's speech was short, but to the point, and also gave us more insight into who Randall is and what he sees in the world around him.