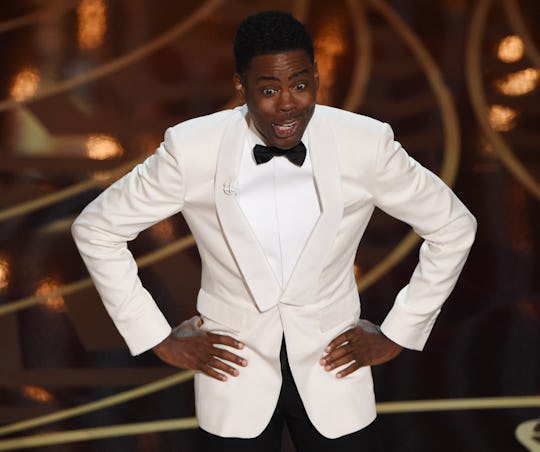 MARK RALSTON/AFP/Getty Images
Reactions To Chris Rock's Oscars Monologue Prove He Made The Perfect Host
Oh yes, he went there. As the 2016 Academy Awards drew near, people were curious how Chris Rock would weave the #OscarsSoWhite controversy into his opening monologue (or if he would even touch on it at all). But the comedian delivered with an opening act that not only addressed the lack of diversity in Hollywood but racial issues around the world. And the world heard what he had to say. The reactions to Chris Rock's Oscars monologue prove that he was the perfect person to host during what may be one of the most controversial award shows in history.
Prior to the Feb. 28 award show, Rock didn't say anything about #OscarsSoWhite. In fact, he remained relatively mum on the topic. But it's clear that his silence was simply a way to shock people during the opening segment. In between jokes about Kevin Hart's oh-so-long resume, Rock's Oscar monologue touched on the lack of black actors nominated for the 88th Academy Awards as well as the lack of opportunities for black actors in general.
"We just want opportunities," Rock said. "Black actors just want the same opportunities."
Based on the applause in The Dolby Theatre, it's clear the audience heard what he had to say. And, if you look on Twitter, the rest of the world heard him as well.
And it's safe to say that people clearly wanted more Rock.
Here's hoping Hollywood and the whole world heard what Rock had to say, and that it will actually create change for next year's award ceremony.