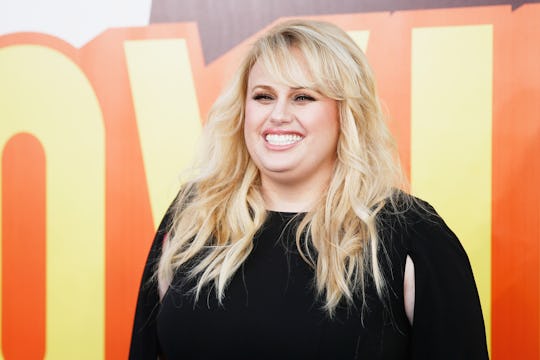 Getty Image
Rebel Wilson "Loves Her Body Type," Topping Off The Best Day For Body Positivity, Like, Ever
Everyone go check outside. Are pigs flying? Something strange has been happening on the Internet today: famous, highly visible women are admitting to feeling good about themselves. First Kim Kardashian takes down a troll, then Amy Schumer poses naked with no airbrushing in site, and in a Cosmopolitan UK interview, Rebel Wilson says she loves her body type. Hear, hear ladies! Wilson is on the cover of the mag's January issue and she talks about being totally unique and totally herself. She says:
I wouldn't ever want to compete with what I call 'the glamours' -- the really gorgeous people. I'm about the brain, the heart and what's on the inside. I feel really lucky to be the body type I am.
Can we get a heck-yes? Earlier today, someone fat shamed Kim Kardashian for flying to France to get a churro. "All you think about is food," the tweeter wrote. Kim's response? Yup! And that Pirelli calendar. This year, instead of models, the calendar features awesome, talented non-models like Amy Schumer, Serena Williams, Patti Smith, Fran Lebowitz, and others. It's powerful and empowering to honor women for their professional achievements and their bodies, especially when those bodies are diverse and imperfect and totally gorgeous. The calendar is basically the exact opposite of an Inside Amy Schumer sketch in which a bunch of women gather for brunch and no one can take a compliment, and when one of them does, madness ensues.
Of course, the trolls were also out all day, but the Internet had women's body pos backs:
Amen. Rebel, Kim, and everybody in the Pirelli calendar, keep fighting the good fight.
Image: Rich Polk/ Getty Images