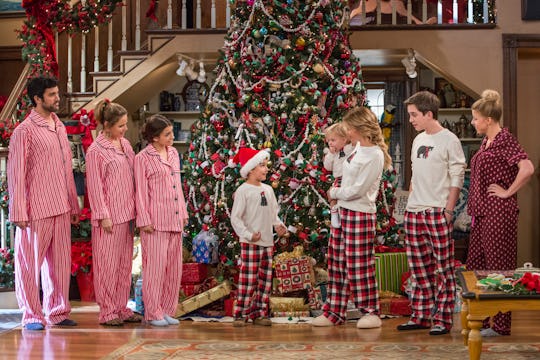 Michael Yarish/Netflix
Everything You Need To Remember About 'Fuller House' Season 2
Fuller House returns for a third season this month following the reboot's hugely successful first and second seasons on Netflix. In fact, Season 3's Fuller House premiere date has a very special significance to the series befitting its nostalgia-packed nature: it's the 30-year anniversary of Full House's series premiere on ABC back in 1987. The Tanners have come three full decades into the future with the help of a third generation of kids, so it may behoove fans to recap Fuller House Season 2, just to get situated with where we're at.
Season 1 left D.J. on the precipice of choosing between a relationship with her high school sweetheart Steve or one with her cute new coworker Matt. Steve was safe, familiar, and he reliably adored her. But Matt brought fresh, passionate energy into D.J.'s life as she was adjusting to widowhood. Ultimately, D.J. chose not to choose. She decided in the Season 1 finale to take a break from seeing both of them to sort through her feelings. The Season 2 premiere jumped forward by a summer to reveal D.J.'s choice and, conveniently, gave us the perfect runway to sail into the holidays with Halloween, Thanksgiving, and Christmas episodes. Here's everything else that went down in Season 2...
D.J. Missed The Boyfriend Boat
DJ spent the summer on a romance break so she could sort out her feelings between Matt and Steve, but in the meantime, Matt and Steve both got girlfriends and cultivated an epic bromance.
Fans Met Jimmy Gibbler
It turns out that Kimmy has a never-before-mentioned brother named Jimmy, who basically amounts to a bargain bin Ashton Kutcher. He quickly struck up a romance with Steph in the season premiere and the two have carried on an adorably goofy relationship ever since. By the end of the season, she got over her parental-death-related commitment issues and returned his "I love you" for the first time.
D.J. Got Set Up With Alan Thicke
He played the grandpa (yes, grandpa) of Matt's new, much younger girlfriend Crystal. It's a hilarious date, but a failed love connection.
Fernando Moved Into The Fuller House
He got evicted and moved in with his on-again-off-again wife Kimmy. They were on-again when the couple decided to dress as Lucy and Ricky Ricardo for Halloween with flawless impersonations.
Matt & D.J. Got Back Together
In spite of the fact that Matt was in a relationship with a young, hot, equally fitness-obsessed woman named Crystal, he and D.J. still had major chemistry. When Cosmo the dog needed emergency surgery after swallowing a corn cob, D.J. and Matt rushed him to their office where they saved his life. They got caught up in the emotionally intense moment and kissed.
Thanksgiving Revealed A Slew Of Life Updates
The gang reunited for Thanksgiving, where we learned what's going on with Danny, Joey, Jesse, and Becky. Danny had a culturally appropriative midlife crisis. Jesse and Becky argued over the decision to adopt another baby. We met Joey's wife, who seems lovely, and his four kids, who are a nightmare. And finally, we were introduced to Steve's new girlfriend C.J., who — you guessed it — is an eery D.J. doppelgänger.
Girl Talk Briefly Reunited
D.J., Kimmy, and Steph's childhood band Girl Talk gathered in the basement for another take, complete with a cameo from Marla Sokoloff, who played its fourth member and resident bad girl Gia. She caused friction between the Tanner sisters again, but at least she's switched from cigarettes to vaping, which is a marginally less invasive unhealthy habit.
Stephanie Made A Viral Music Video
Steph wrote a great song, but her initial attempt at making a music video for it failed. Kimmy saved the day by editing together another one laid over clips of Tommy and Cosmo playing. Steph even got to travel to Los Angeles to perform the song on her dad's morning talk show live! (Although trouble ensued.)
New Kids On The Block Made A Cameo
D.J. celebrated a 39th birthday and Kimmy accidentally bought her counterfeit NKOTB tickets. Somehow, she and Stephanie kidnaped the band and convinced the guys to give D.J. a private birthday show at the house. Except D.J. was on pain meds after an emergency dental procedure and thought they were a hallucination. Luckily, someone filmed the whole thing and showed her later. Steve also got her a sentimental gift that overshadowed her actual boyfriend Matt's gift of his-and-hers tennis rackets. So Steve salvaged the awkward moment by getting the girls real New Kids on the Block tickets and gave Matt the credit for securing them. (What a dreamboat!)
Kimmy & D.J. Went To Their High School Reunion
Their ex-boyfriends Nelson and Viper both made an appearance, along with some other familiar faces from the original series. Steve announced he's going to propose to C.J. and D.J. wistfully gave him her blessing.
Max & C.J.'s Daughter Rose Get Together
Bonding over their mutual love of Titanic, D.J.'s son Max and C.J.'s daughter Rose struck up a pint-sized boyfriend/girlfriend situation.
Steve Proposed To Not-D.J.
D.J. helped Steve (successfully!) propose to C.J. but she later admitted to Stephanie that she was initially planning on picking Steve as her boyfriend, before she knew he and Matt both had girlfriends. She was genuinely happy with Matt though and seemed at peace with how the whole thing worked out.
Jesse & Becky Adopted A Baby
Her name is Pamela, after Danny's late wife, and Joey was named godfather. Suffice to say, this show seems dead set on making stars out of every toddler in Los Angeles.
The first nine episodes of Season 3 drop on Netflix on Sept. 22.
Watch Romper's new video series, Romper's Doula Diaries:
Check out the entire Romper's Doula Diaries series and other videos on Facebook and the Bustle app across Apple TV, Roku, and Amazon Fire TV.