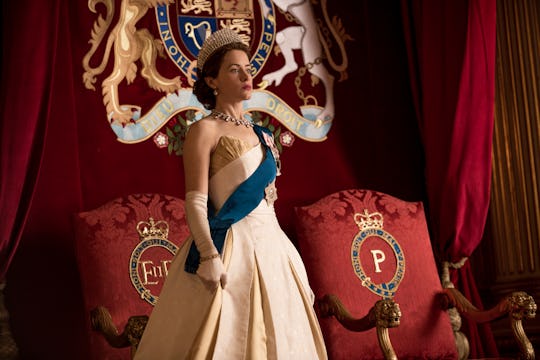 Robert Viglasky/Netflix
Everything You Need To Remember About 'The Crown's First Season
Despite spanning all of 10 episodes, the first season of Netflix's The Crown did its very best to present the story of Queen Elizabeth II's rise to her station as accurately as possible, so there was a lot of content fit into those 10 episodes. This is why a recap of The Crown Season 1 is probably necessary as you head into binge-watching Season 2.
Even if you aren't one of the millions of people who are obsessed with knowing anything and everything about the royal family's comings and goings, learning about their history can be very intriguing to almost anyone, especially since the creators of the series seem to try and make it feel as authentic as possible. The Crown Season 1 began with Queen Elizabeth II rising to power after having grown up believing that she wouldn't be the country's ruler for quite some time (if ever). The season concluded with her struggling to rule the country while keeping her marriage together as she tried to find a place for Prince Philip in this new way of life.
But between all of that, the season spanned several years and between ruling the country and adjusting to life as the queen in general, Elizabeth started to grow into the confident ruler people know today. But since things are just getting started, there's no time like the present to recap everything we learned during The Crown's first season.
Elizabeth Was Coronated
Early in the season, Elizabeth had her official coronation, which Philip convinced her to have televised, which was a pretty big deal back then.
Her Relationship With Philip Started To Suffer
As Elizabeth began taking on a more concrete role as the queen, acting as diplomatically as she could while still getting the hang of juggling life as both a queen and as a wife, her relationship with Philip started to take a negative turn. As she ruled the country during the day, he often went out with friends until the later hours of the night. At one point, their argument was even caught by the paparazzi, and although the season ended with the two basically working it out, they're still clearly on shaky ground.
The Great Smog Was Addressed
From Dec. 5 to Dec. 9 in 1952, a polluted cloud of smog engulfed London and resulted in more than 12,000 deaths. It also prompted the Clean Air Act of 1956, and while it might not seem important moving forward into The Crown Season 2, it's important to note that the series cares about historical events throughout Elizabeth's reign.
Princess Margaret & Peter Townsend Broke Up
If you loved watching Elizabeth's younger, free-spirited, sister Princess Margaret, you're definitely not alone. Where Elizabeth was forced into her position of power and has real responsibilities, Margaret was actually urged by Sir Winston Churchill to stay out of diplomatic affairs, as the public didn't want to see someone with such personality. As a result, the main focus of her storyline centered around her love life, particularly in regards to her relationship with Peter Townsend. But when Elizabeth realized she couldn't give her blessing for them to be married, Margaret's heart was broken and it was over.
Winston Churchill's Role Was Important
Winston, though sometimes shown as more of a crotchety old man, played an important role in advising Elizabeth and working for the greater good of the country. His scenes may not have been the most exciting for the first season, but his role in Elizabeth's reign was obviously important, so leaving him out completely would have been straying far too much from historical accuracy.
Elizabeth Found Something For Philip To Do
At the end of the season, as Philip struggled to find where he belonged in Elizabeth's life and in their world in general, she found a place for him as the opener at the 1956 Summer Olympics in Melbourne. But something tells me that their marital problems are far from over.
Winston Churchill Was Replaced As Prime Minister
At 82 years old, Winston finally stepped down as Prime Minister and Anthony Eden took over for him. It's unclear the role that Winston will have in the show moving forward, but he could still return as a personal advisor of sorts for the queen.
The Crown Season 2 focuses on a whole new decade in Elizabeth's life, and if the events of Season 1 are any indication, I'd say that a lot of ground will be covered.
Check out Romper's new video series, Romper's Doula Diaries:
Watch full episodes of Romper's Doula Diaries on Facebook Watch.