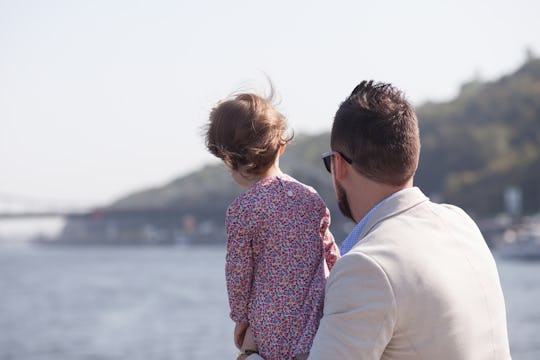 rastlily/Fotolia
Reddit Dads Reveal How They Really Feel About Being Working Parents
I don't know if, as a society, we'll ever get past this archaic idea that there is a "right way" and a "wrong way" for parents to work or stay at home. In a two-parent household where at least one parent is a man, that man is often expected to work. As a result, working moms are often asked how they balance work and parenting, but working dads generally aren't questioned. Always the equalizer, I scrounged Reddit to see how dads really feel about being working parents.
Reddit user valjean260 shared a BuzzFeed post by Charlie Capen, questioning why no one asks him, as a father with a career, how he balances work and family. By sharing, valjean260 seemed to agree with the premise of Capen's article: that "Men aren't judged in the same way if we decide to work full-time outside the home. We aren't bludgeoned by criticism for taking a job or going on a business trip. But the fact remains that we do have self-critical thoughts similar to those of our female counterparts."
In another Reddit thread, musiclovah1981 asks for advice on how to get a break. He works all day and takes care of the kids immediately upon getting home. When he does chores on the weekends his children have meltdowns. He wants to spend time with his kids, but he feels close to meltdown himself.
Finally, there's my partner. He's a dad who has primarily stayed at home since we became parents almost eight years ago. When I lost my job unexpectedly last year, he began to wade back into the workforce. Not surprisingly, he was besieged with anxiety about what type of qualifications he would have after so long away from the work force, not to mention having to develop a whole new set of coping skills in balancing work and family life.
Do other dads resonate with these struggles? These dads of Reddit reveal how they really feel about working, and further prove that social expectations of parents based on gender are for the birds.