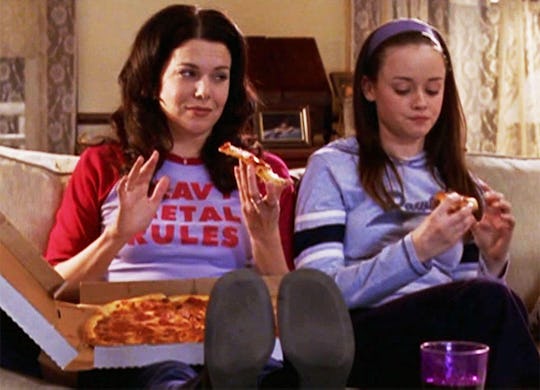 Warner Bros.
7 Signs Your Kid Is Dangerously Close To Being Your Favorite Human To Hang Out With
I know there are some people who are firmly in the "my child has always been my favorite person to hang out with" camp. I can also assume, to some degree, that those individuals believe I'm emotionally deficient and don't love my kid enough to value their company above all others since birth. If that's how you feel, it's cool. Because I know there are people who definitely understand what I'm talking about when I say my spawn hasn't always been my favorite person to be around. My kid is dangerously close to being my favorite human to hang out with now, though, and there are moments when that's painfully obvious.
I was lucky enough, in my pre-kid life, to have a lot of great friends. I mean exceptionally rewarding and fulfilling friendships. When I was pregnant, and especially during the first year or two of parenthood — which is when things feel the most all-consuming and leave the least free time for the other people in your life — I missed my friends immensely. I found those same times to be unspeakably challenging and illuminating and fun and weird on the parenting front, so it's not like I was bored or unhappy. I simultaneously valued the hell out of the relationship that was getting almost all of my attention while also feeling acutely sad about the other relationships I was neglecting. But as my kid got older, I incrementally got more of my time back to spend alone or with other adults, and everything was cool.
But lately, something unexpected has happened. My kid just turned 5, and without belaboring his many exceedingly cool qualities — he's hella articulate and loaded with attitude; wicked sense of humor; kind of a heartless sociopath in a way that makes me really examine the root necessity of compassion as I'm explaining it to him; for starters — the point is that I haven't just started to deeply enjoy spending time with him, there are actually times when I prefer it to being alone or being with my friends.
Look, I get that that might still sound awful, like I'm surprised that being with my kid isn't more enjoyable than being alone or with other adults. But whatever, I really don't understand anyone who can't relate to that. Of course I like being alone. I've always liked being alone. The desire to be a parent was one massive concession of alone time, and if I'd decided never to have kids, the unmitigated retention of my alone time would've been cited as a primary reason. So yeah, I missed it. And I'm not intellectually stimulated by teaching a tiny human how to read or tie shoes. It's sweet and endearing and I do it and love it, but is it the most exciting way I can think of to spend an afternoon? Ugh, no!
So the point is, I've been surprised to slowly realize that my kid is unexpectedly shifting from this person I've willingly agreed to be bored by to someone I'm usually sure I'll have more fun with than anyone else. Maybe you don't relate, but if you do, you probably noticed some of these signs as that change is occurring: