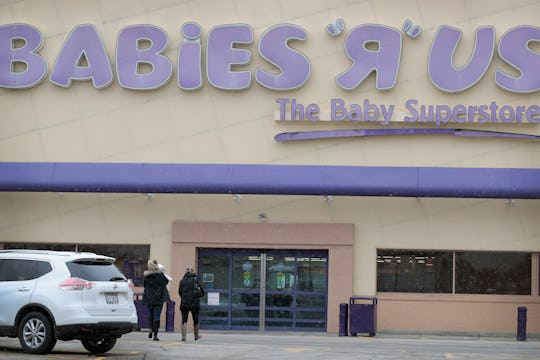 Scott Olson/Getty Images News/Getty Images
Guys, Don't Register For Your Baby Shower At Babies "R" Us — Seriously
I guess I am going to have to grow up because this week, Toys "R" Us reportedly told their employees that they will be closing all their stores across the country. For many people of my generation, Toys "R" Us was a childhood sanctuary — a place where you could explore aisles of pure joy, and discover amazing new toys that you had been dreaming about. It seems that their sister store, Babies "R" Us, the holy grail for new parents, is also going to be taking a hit. If you are expecting and looking to set up your baby want list, you might be wondering, should I make a registry at Babies R' Us?
Unfortunately, because the exact future of Babies "R" Us stores is unknown, you should probably avoid creating your baby registry there. As reported by USA Today, Dave Brandon, CEO of Toys "R" Us, said this week that the company is planning to close or sell all of its locations, including Babies "R" Us stores. He mentioned that for the time being, the Babies "R" Us registry would stay up and running in hopes that an investor will eventually buy it.
For more information on the registry's outlook, Romper has learned that the online store and registry will stay open for a few weeks, but we were not able to confirm a closing date for either. So it's safe to say, that at this point, no one really knows what is in store for the Babies "R" Us registry system and where it will be in the near future.
There is a small chance that about 200 Toys "R" Us (and possibly Babies "R" Us locations) will stay open even after the company liquidates. Toys "R" Us is looking into selling about 200 of its most popular and profitable stores, along with its Canadian business, reported CNBC. The report mentioned that while there is no buyer lined up yet, if an investor bites, the company would keep it's brand in tact while being headquartered in Canada.
If you are planning to set up a registry, you still have some great options. Target, Amazon, and Buy Buy Baby have an amazing selection of baby gear, apparel, and toys, and you can easily register with them online. And if you live at Target like I do, you can always browse through the store for stuff you like, and register at an in-store kiosk. Setting up a Target registry has a few perks as well. When you sign up, Target will give you $50 in coupons and samples, you will get a 15 percent off discount on anything leftover on your registry, and you can return or exchange registry items up to a year after your due date.
If you are looking for a large selection of baby items, similar to Babies "R" Us, you can look into the Buy Buy Baby registry. Buy Buy Baby, whose parent company is Bed Bath and Beyond, has over 100 locations across the country, but if you don't live near one, you can just set up a registry through their website. From car seats to pacifiers, they have a massive selection to choose from and their website is pretty easy to navigate as well. When you sign up for a registry, you can access to their Baby Book for ideas and inspiration, and look through their baby guides and advice for more detailed insight into their products.
Amazon, on their website, boasts that they have the largest selection of baby items on Earth, and it's probably true. They have millions of baby products that you can add to your registry, and they also offer discounts and rewards to Prime members, and for most baby registry items, Amazon will give you 90 days to return or exchange. Hey, if it's good enough for the Kardashians, it's good enough for us!
So, if I were you, I'd steer clear of the chaos and register at somewhere other than Babies "R" Us. It's sad to see my childhood and motherhood wonderlands disappear, but I'm going to hang on to that glimmer of hope that they get bought up by investors. Who knows, while it may be limited, the Toys "R" Us and Babies "R" Us brands just may survive.
Check out Romper's new video series, Bearing The Motherload, where disagreeing parents from different sides of an issue sit down with a mediator and talk about how to support (and not judge) each other's parenting perspectives. New episodes air Mondays on Facebook.
Editor's note: This article has been updated from its original version.