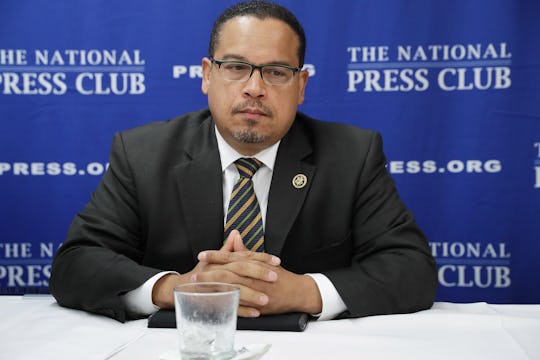 Chip Somodevilla/Getty Images News/Getty Images
Rep. Keith Ellison's Mom Calls The House Floor & Adorably Tells Him To Join The Sit-in
After the United States Senate failed to pass a series of gun safety measures Monday, lots of lawmakers are frustrated and upset. That includes members of the House of Representatives, who on Wednesday began staging a sit-in to demand their own vote on gun control measures. As it turns out, the congressional reps weren't alone in that fight. As his colleagues were staunchly promoting #NoBillNoBreak, Minnesota Democratic Rep. Keith Ellison's mom called the House floor while he was in a meeting to urge him to join in, and it was arguably one of the most adorable moments in politics this year.
Progressives are again seeking legislative action that would make it harder for dangerous people to access firearms in the United States after a gunman murdered 49 people in a gay Orlando nightclub June 12. Democrats' latest push to meaningfully address mass shootings in the country has earned the accolades of such high-profile figures as President Obama, Bill Clinton, and Connecticut Sen. Chris Murphy, who last week completed a 15-hour filibuster on the floor of the Senate to force a vote on gun control legislation.
The resulting proposed amendments to a spending bill, which included measures to enact universal background checks and bar suspected terrorists from purchasing guns, ultimately did not pass.
That means that members of the House of Representative won't have the opportunity to vote on whether or not the measure will become law. So, led by civil rights icon Rep. John Lewis, a Georgia Democrat, Democrats are participating in the sit-in before the House leaves at the end of the week for a scheduled recess. It began with participants chanting "I'm sick and tired of being sick and tired!" and "No bill, no break!", NBC News reported.
And Ellison's mother is evidently among those "sick and tired" of the government inaction after mass shootings like 2012's Sandy Hook Elementary School slaughter of 20 first-graders and six adults and the murder of nine people in a historic back church in Charleston, South Carolina, last year, just to name a couple of the atrocities that have plagued this nation.
The Hill reported that Ellison joined the protest after receiving a note reading, "Your mom called and wants you on the floor!"
Ellison didn't need much convincing, as he soon tweeted that he had joined the effort:
The legislator's mother's gesture is undeniably adorable, but it would feel considerably more lighthearted if there issue weren't so dire. Americans are reeling from the worst mass shooting in its history and are again realizing that their government, again, might not do what it needs to do to protect them and prevent an event like what happened in Orlando from happening again. Largely because of the influence the NRA holds over Republicans, lawmakers have not been able to beef up its national gun control measures since it acted to strengthen the background check system after a gunman killed 32 people at Virginia Tech in 2007.
Lawmakers have initiated sit-ins only twice before since the 1970s, according to The Washington Post. But for Lewis, the representative leading the charge, it was an option he couldn't ignore in a seemingly hopeless circumstance, as he explained from the floor:
Sometimes you have to do something out of the ordinary, sometimes you have to make a way out of no way. There comes a time when you have to say something, when you have to make a little noise, when you have to move your feet. This is the time. Now is the time to get in the way. The time to act is now. We will be silent no more.
Ellison and his mom are just two of the 92 percent of Americans who, according to a post-Orlando CNN poll, support expanded background checks and the 85 percent who believe that anyone on a FBI terror watch list shouldn't be able to purchase guns at all. Their interaction within the larger context of the state of gun violence and accessibility in the United States shows that these issues affect real people and families. Sometimes moms really do have the best advice.