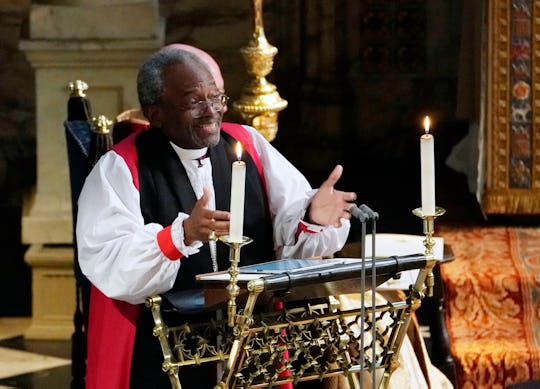 WPA Pool/Getty Images Entertainment/Getty Images
Reverend Curry Quoted Martin Luther King Jr. At The Royal Wedding, & Twitter Was Here For It
The wedding of Britain's Prince Harry, Duke of Sussex to American actress Meghan Markle, Duchess of Sussex, has been a game changer on so many levels. First of all, she's American. Second of all, Markle is a noted feminist who speaks her mind. Third, she's a black woman. And one of Twitter's favorite signature Markle moments? Reverend Curry quoted Martin Luther King Jr. at the royal wedding, and it was an incredibly moving moment.
Bishop Michael Curry took to the pulpit at St. George's Chapel in Windsor Castle on Saturday morning, in front of arguably the most famous crowd on the planet. The Queen of England and her royal family, including Prince Harry's father Prince Charles, his brother Prince William, the Duke of Cambridge, and his sister-in-law Kate Middleton, the Duchess of Cambridge. And the sermon he delivered, I feel safe to say, was probably the first of its kind in the ancient church. Bishop Curry is the head of the Episcopal Church in Chicago, Illinois, and he doesn't shy away from getting passionate about his subject matter. Which was deceptively simple and also complex: love. And who better to quote when talking about love but Dr. Martin Luther King Jr., right? The quote he chose was one of Dr. King's most powerful too:
"We must discover the power of love - the redemptive power of love. When we do that, we will make of this old world, a new world…Love is the only way."
Twitter was justifiably excited to hear Dr. King quoted at such an auspicious occasion, perhaps especially in a room where, let's face it, almost everyone was white.
Although admittedly, Meghan Markle and Prince Harry did bring a much more representative tone to their proceedings. And it's about time that the royal family changes things up a bit, in my opinion, to keep with these progressive times. And as one clever tweeter pointed out, the ceremony was a real testament to the couple's concentrated effort to honor the bride's heritage in deeply meaningful ways.
Bishop Curry set the barre high, of course. A progressive leader in the Episcopalian church who has been vocal in his support of the LGBTQ community, Curry was an especially brilliant choice for the royal wedding. He was so eloquent and so sincere, especially when he said, according to The New York Times:
Christianity is a movement grounded in the unconditional love of God for the world and a movement mandating people to live that love and in so doing to change not only their lives but the very life of the world itself.
The wedding of Duchess Meghan and Prince Harry was significantly different from his older brother Prince William's wedding to Kate Middleton in 2011. That wedding was lovely as well, of course (let's not get into the comparison game), but considerably more traditional as befits the future King of England. Fortunately for Prince Harry and Meghan, they were not held back by such constraints. There was the sermon of Bishop Curry, the performance of Ben E. King's 1961 classic "Stand By Me" by Karen Gibson and the Kingdom Choir, Markle walking herself down the aisle part of the way... all such lovely, individual touches for a couple working hard to pave their own way.
The reality is, Meghan Markle is a woman who embraces all of the things about herself, as she should. She's a grown woman, comfortable in her own skin, giving herself in marriage to the man she loves. Not shying away from her black heritage, not shying away from being an American... whether she's getting married in front of the queen or not.
Good for her.