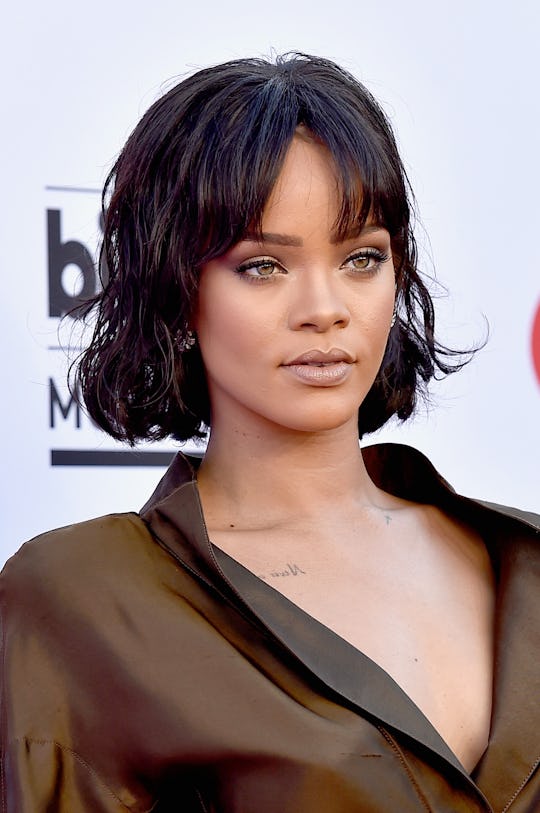 David Becker/Getty Images Entertainment/Getty Images
Rihanna's Video Vanguard Award Speech On The VMAs Was A Perfect Finale To Her Performances
Before we get into what went down in Rihanna's Video Vanguard Award speech, it's probably a good idea to have a refresher course on what it is exactly. In the most simple of terms, when referring to the award in a music artist capacity, it's a lifetime achievement award. In fact, the full formal name is the Michael Jackson Video Vanguard Award, and it's no secret what an icon Jackson was and continues to be today. So when Rihanna accepted her Video Vanguard Award and gave her speech, it was a long time coming, believe it or not.
She's been around and active for more than 10 years and has either headed or appeared in 52 music videos since the start of her career. The Video Vanguard Award at the VMAs is given to an artist who has reached a certain level of excellence in their career so far and remains something of a role model for other artists in terms of career success and sheer strength of, in Rihanna's case, vocals.
One of Rihanna's first hits was "S.O.S." and if you are already hearing it in your head in her familiar voice, then that's proof enough of how much of an impact she has had in the music industry so far. But throughout her hits, Rihanna has managed to be a part of these videos for her singles that were monumental in their own ways, regardless of the songs behind them.
Rihanna's Video Vanguard Award acceptance speech hit on all of the aspects of her career that we expected it to, and spoke of her roots, up until the chances she's taken as a woman in the industry. She was also super humbled at being chosen as the recipient for the Video Vanguard Award at just 28, and took the time to thank pretty much everyone who'd had a role in her career to date. Not only did Rihanna's Video Vanguard Award speech talk about her career and the journey she's made in the music industry, but all of Rihanna's performances throughout the night payed homage to the extensive career she's had so far, and proved further how hard of a worker she is for her craft.
But, probably most importantly, Rihanna's opening performance at the VMAs also offered us a serious throwback Sunday at all of her hits that fans loved back in the day and still somehow all remember verbatim. Rihanna winning the Video Vanguard Award made you realize how much of a fan you always were, whether you knew it or not.