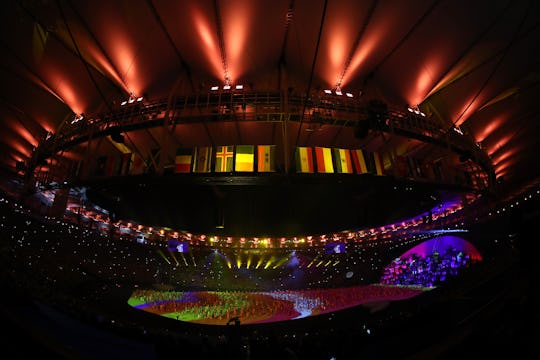 Clive Mason/Getty Images Sport/Getty Images
Rio Olympics Opening Ceremony Memes Are Roasting The Games Before They Begin
The Summer Olympics are here and we've barely even begun before Twitter began lighting up with Rio Olympics opening ceremony memes. And let's be real: there are some seriously awkward moments in every opening ceremony. Whether a ring doesn't light up, there's a flame malfunction, one of the set pieces looks like a flaming butthole, or some poor country's designer majorly flopped on team uniforms, we're pretty much guaranteed that the internet will be at the ready to roast the failures and ferret out the unexpected hotties. Rio is no exception.
The Rio opening ceremonies blessed us with plenty of questionable copy from the NBC anchoring desk, goofy uniforms, an interminable parade of nations, and one very greased up man from Tonga. (Not, to the best of our knowledge, Jonah.) But the ceremony itself wasn't the only thing getting ripped apart. Viewers were even angry at how many commercial breaks were peppered through the broadcast. (Even though most of those commercials were satisfyingly tear-inducing. The Olympics are full of emotions, you guys!) With all the excitement going on in Maracana, the iconic Rio soccer stadium hosting the opening ceremonies, fans were a little peeved they kept missing out on the show.
Give us more bizarre choreographed routines with space blankets!
And the torch wasn't remotely as lit as Gisele taking her final runway walk.
Show creators also managed to squeeze in a lesson about global warming.
Which wasn't the only politically-charged event of the night.
Luckily, a Trump presidency will have come and gone by the time we end this parade of nations.
But since we're at it, what is with those Team USA outfits?
Not that our German allies were doing much better.
Pretty much the whole internet is in agreement that Tonga was the reigning Olympic champion of team uniforms. Please meet the flag bearer from Tonga: Pita Nikolas Aufatofua.
Rio had a nearly insurmountable challenge in devising its opening ceremony this year: they had a tiny budget in comparison to recent years. So while the the grandeur of shows put on by host cities like London and Beijing are burned into our memories, Rio didn't have nearly as much to work with. But the hit they took in production value was definitely made up by the runaway star of the night: some guy's impeccably oiled abs.