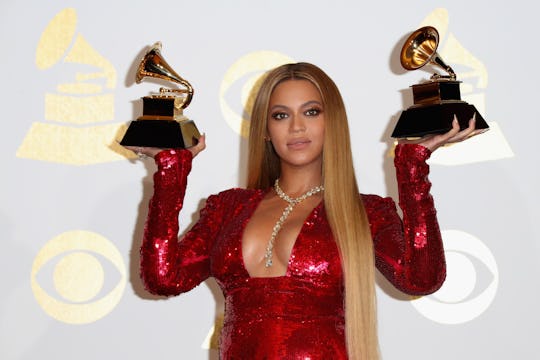 Frederick M. Brown/Getty Images Entertainment/Getty Images
Here's The Latest On Beyonce's Twins' Names
The two newest additions to the Knowles-Carter family are (unofficially) here, and the Beyhive has not stopped buzzing since news leaked that Beyoncé had given birth to the babies last week. Fans of the megastar and her husband, Jay Z — not to mention their 5-year-old daughter, Blue Ivy — are ravenous for updates about the twins. So, as the swarms and swarms of Bey diehards out there keep refreshing their Instagram feeds hoping to spot a photo of the newborns, the gossip mill is working overtime to fill the information void. As a result, rumors about Beyoncé's twins' names are taking over social media.
The babies were reportedly born at a Los Angeles hospital July 12, but neither Bey or Jay have confirmed their birth — and the widely accepted report that they are a boy and a girl is similarly unverified. But reports about what the couple had named the babies seemed to lend some credence to that assertion, which Us Weekly attributed to multiple unnamed sources. That's because word on the street is that the two little ones are named Shawn and Bea. Shawn Carter, of course, is Jay Z's given name, and Bea would be pronounced "Bee," if the anonymous sources spilling to the likes of MediaTakeOut.com and The Hollywood Gossip (which reported that the boy's name would be spelled Sean) are to be believed.
And if, if, if these sources actually are credible, that means that Bey and Jay opted to name their twins after themselves. For some, these names would be a bit anti-climactic coming from one of the most influential couples in the realms of pop culture and entertainment — especially after they introduced a totally unique and unexpected name, Blue Ivy, when their oldest was born back in 2012.
Love the rumored names or hate them, though, it's important to remember that there's definitely a good chance that Beyoncé and Jay Z have decided to go with two totally different monikers for the twins. Perhaps, for example, they paid attention back in April when astrophysicist Neil deGrasse Tyson took to Twitter to make some suggestions: Zenith and Nadir, Dawn and Dusk, Crescent and Gibbous, Aster and Roid, and more.
The twins are reportedly still in the hospital after being born premature, so informing the public about every little detail is understandably not at the top of their parents' minds right now (not that it would be anyhow, honestly). Some day soon, though, Bey and Jay will introduce their babies to the world. And when the time comes, the rumors will be totally irrelevant.