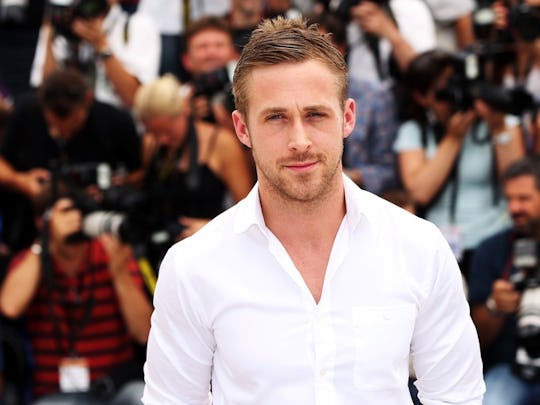 Sean Gallup/Getty Images Entertainment/Getty Images
Ryan Gosling Is Hosting 'SNL' December 5, So Better Cancel Your Plans Now
Hey girl, did you hear that Ryan Gosling is Hosting Saturday Night Live December 5? Will he be as good as his former Mickey Mouse Club co-star Justin Timberlake? Um, probably not. Justin is such an awesome SNL host, I'm tempted to start a Change.org petition to make him a regular cast member. (That's how that works, right?) And we don't really have a lot to go on; Gosling tends to shy away from comedy in his acting career (I know him mainly from his roles as a man who deludes himself into thinking a sex doll is alive, and as a crack-addicted middle school teacher). Can Ryan Gosling even do funny?
In an appearance on MTV's After Hours last year, he was invited to riff on the "Hey Girl" meme started on the popular Tumblr "F*ck Yeah! Ryan Gosling." If this is your first day on the internet, the meme consists of captioning sultry Gosling photos with "Hey girl" and a weird come-on. It's funnier than I'm making it sound, I swear. He's unable to come up with a new caption on the spot, and devolves into a fit of giggles so severe, he can be seen wiping tears from his eyes.
However! In a skit on Jimmy Kimmel Live back in 2013, he manages to hold his own when portraying a home-shopping knife salesman alongside Will Ferrell. Could you star in a sketch with Will Ferrell and not laugh? Heck, some SNL veterans can't even manage that! Looking at you, Jimmy Fallon (that's not always a bad thing, though– for proof, here's my absolute favorite SNL sketch, "Jeffrey's," starring Ferrell, Fallon, and Sean Hayes).
Really, the funniest thing Gosling's ever done, which was also the most tear-jerking (shut up; I haven't seen The Notebook) was when he ate his cereal. Bear with me, here. It all started with Vine star Ryan McHenry, who would post short videos of Gosling seemingly refusing to eat cereal, and it was adorable:
McHenry told The Verge that Gosling finally responding to the meme would be the "only conclusion." Sadly, McHenry succumbed to cancer in May 2015. Two days later, Ryan Gosling, the beautiful baby goose that he is, did respond.
Cue the Awww's.
Good luck next month, Ryan. If all else fails, you can just eat cereal and look pretty for an hour and a half. At least it'll probably still be more entertaining than Donald Trump.
OK fine, except for this part:
Image: Sean Gallup/Getty Images Entertainment/Getty Images