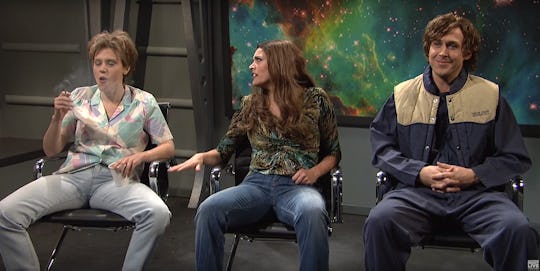 Ryan Gosling Laughing During 'SNL' Had Us Laughing & 5 More Hilarious Times 'SNL' Couldn't Keep It Together
On Saturday night, much to the joy of Ryan Gosling fans worldwide, the man, the myth, the legend himself hosted Saturday Night Live. And if you haven't watched it yet, it was pretty amazing. (You can see so for yourself.) But while the actor's performance during the (highly disturbing) Santa Baby sketch was totally on point, Gosling couldn't stop laughing during Saturday Night Live.
But can we really blame him? Some of these sketches were ridiculously hilarious. You can see him smirking quite a bit during the Hometown Bar sketch. And he's totally pausing for some internal giggles while playing the role of a submissive, horny elf in the Santa & The Elves sketch. (That's definitely one take on Santa's workshop I'd never imagined.)
He really starts breaking character in the Birthday Party sketch as he tries to deflect flirtation from a 13-and-a-half-year-old girl at his daughter's celebration. You can see the poor guy suppressing some laughs behind that thick mustache. But the real character-breaking moment was during the Close Encounter sketch, where Gosling just completely loses it and is cracking up while Kate McKinnon recounts her very different experience as an alien abductee.
But Gosling isn't the first person on SNL to break character. Plenty of SNL hosts and cast members alike have encountered a case of the giggles. Let's take a look at some of these classic and hilarious moments in SNL history: