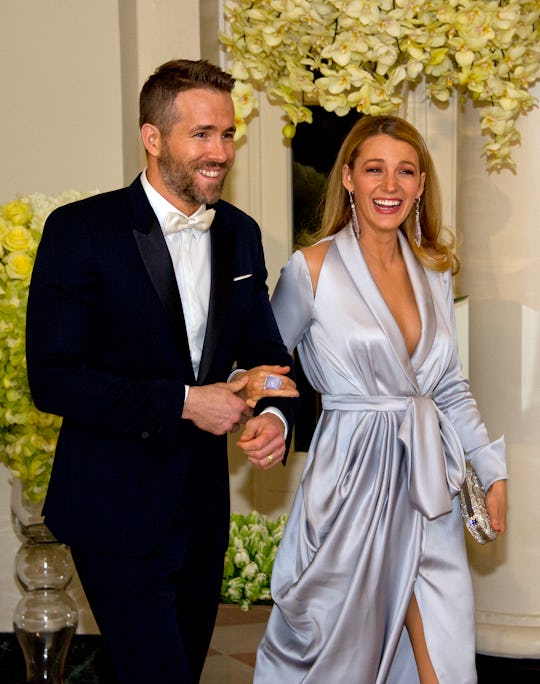 Pool/Getty Images News/Getty Images
Ryan Reynolds' Quotes On Blake Lively's Parenting Prove Even Superheroes Bow Down To Moms
Actor Ryan Reynolds might actually be Deadpool incarnate — his hilariously deadpan tweets bring me joy on a daily basis — but when he talks about being a dad, the star has a knack for showing his sweet side. Reynolds, who is married to fellow actor Blake Lively, has been pretty honest about all the ways that being a daddy to their daughter, James, has humbled him. But it's Ryan Reynolds' quotes on Blake Lively's parenting that show he understands even superheroes sometimes can offer what mothers can. And the actor, who honestly might be one of the funniest dads on the Internet, seems totally fine with that.
The couple announced back in April that a second baby was on the way. And Blake was already showing off a pregnancy bump when the couple appeared at the Cannes Film Festival later that month. Though there hasn't been official word on when James is getting her little brother or sister, that's pretty normal for the couple. Blake and Reynolds have been private about their growing family, opting not to share pictures of James online and few details about Lively's pregnancies. Still, in media interviews, Reynolds is quite clear that daddyhood agrees with him — and that Lively is the real MVP in their daughter's eyes.
Here are a few of Reynolds' most perfect quotes about sharing parenting duties with Lively. And a quick warning that, like his Deadpool alter-ego, not all of what Reynolds has to say is SFW.
On His Daughter's First Words
Lively is their daughter's primary food source, Ryan said in a Conan interview last year. And that makes him pretty much invisible.
Right now she's starting to say 'mama.' There's an unfair advantage there. It turns out that breasts are actually a life support system and the child seems to gravitate towards the breasts. I'm just the breastless a–hole wandering around the room and getting in her sight-line every once in a while.
On Watching A Real Superhero At Work (In The Delivery Room)
My wife is the real, I mean she is a mercenary. At one point in the middle of the delivery, the doctor's cell phone went off and she said, 'Oh, no. Go ahead, take a personal call. Feel free.' She was cracking jokes in the delivery room. She may have been on drugs, but I don't ask personal questions.
Yeah, that kinda makes Lively my hero, too.
On Middle Of The Night Duties
Just do the dirty work, man. You gotta do the diapers, you gotta do the middle of the night thing. I mean, a human being will exit your wife. So, she's done enough.
That's a quote from Reynolds' appearance on The Late Show With Seth Myers just after James' birth. And honestly, his advice to dads for being a team player after the baby is born gets an "amen" all around.
On Falling In Love With His Little Girl
I don't have to prepare to be wrapped around my daughter's finger. I have been wrapped around her little finger since the day she plopped out into this world.
Speaking to People magazine, Reynolds admitted that he's totally fine with "being surrounded by estrogen." And, all jokes aside, the actor said that having a daughter was "a dream come true."
If there weren't already plenty of reasons for Reynolds and Lively to be tops on the list of celeb relationship goals, these quotes would definitely do it. Not only is Reynolds arguably one of the funniest dads right now, he also might be one of the sweetest.