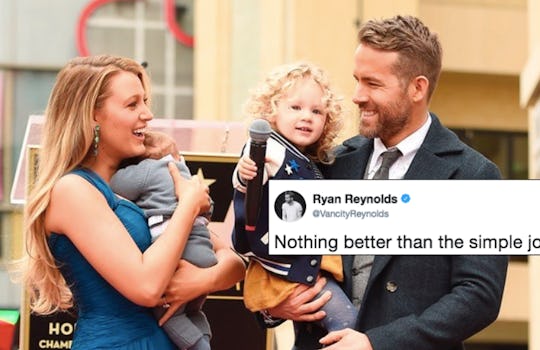 Matt Winkelmeyer/Getty Images Entertainment/Getty Images
Ryan Reynolds Trolled His Daughter On Twitter & It's Easily One Of His Best Dad Jokes Yet
For better or worse, Blake Lively and Ryan Reynolds live to troll each other on social media, often using hilarious takes on parenting to do it. Now, Ryan Reynolds is trolling his youngest daughter on Twitter and to be honest, he's lucky she's not old enough to roll her eyes yet. His dad jokes are officially on point, though.
On Monday, Reynolds tweeted, "Nothing better than the simple joys of finding 5 bucks in an old pair of pants, or discovering my wife and I had a second daughter over a year ago." That's pretty dark when you think about it. Like, is she just $5 surprise dollars amazing? And has poor Blake Lively been doing this all alone while Reynolds just retweets Deadpool memes? I'm not sure, but I am a little concerned for everyone involved.
Obviously, he's totally joking and knows his youngest, Ines, exists, since he's spotted out and about with both her and his eldest, James, all the time. And he talks about them pretty often, too, so rest assured: He knows they exist. Reynolds said on the GQ Men of the Year red carpet last year that Ines and James had a ton in common:
Well, they look alike. You can see that she's sort of a little mini version of our older girl. But, no, it's great. It's like an actually cohesive, working, functioning family. It's amazing to see my older daughter taking care of my younger one. The Lion King was right! The circle of life exists.
For real, though, Reynolds apparently loves being a dad, since he really does talk about it all the time. When asked whether life was different with kids, he told OK Magazine:
There's more love, there's more diapers. There's more all that stuff, you know? [Fatherhood] is the best thing. It's the best thing that could ever happen to you.
He also added that if he could have "nine daughters" he totally would go through with it. And he also knows well enough to poke fun at himself, as evidenced by a tweet last year while Lively was giving birth, where he wrote, "Being a Dad isn't just about eating a huge bag of gummy-bears as your wife gives birth. It means being comfortable with the word hero."
Here Are Some Other Hilarious Gems From Reynolds
He's also been incredibly honest about how fatherhood has changed him without turning it into some joke about his wife or two gorgeous babies. He said in a GQ interview last year, according to E! News, that he was surprised how "patient" he was with being a dad and not snapping all the time, despite having a short fuse normally. Reynolds said:
I have no problem waking up five times in the middle of the night and changing diapers, and as exhausted as you get, I have this stupid grin on my face all the time. And that's not because I have a nanny or something like that. It's just us right now, and I love it.
However, he added that he wishes sometimes it didn't feel like the whole world was sitting by, ready to judge him about his parenting technique. He added, "Yeah, 'Can I just make some mistakes and all of you just f**k off?' Yeah. You want to be able to say that. But you can't say that. There is almost no community on Earth as intense as the parent-child online community." So even for stars, the parenting guilt is very, very real.
Although Reynolds can be cheesy when it comes to making jokes about his family on social media, he does mean well. But he's going to have to up his game for when his daughters get old enough to read social media by themselves, because those jokes might not go over so well.
Check out Romper's new video series, Romper's Doula Diaries:
Watch full episodes of Romper's Doula Diaries on Facebook Watch.