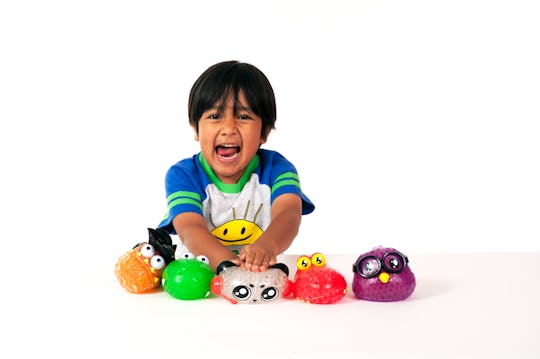 Courtesy of pocket.watch
This 6-Year-Old Millionaire YouTuber Launched A Toy Line And It's Gonna Sell Out
Not so very long ago, the most popular shows for little kids were actual TV shows, like Sesame Street. But the most wildly popular show at the moment for the preschool set isn't on TV at all — it's on YouTube, and it stars a super cute 6-year-old boy playing with toys, eating candy, and generally living out the fantasies of every kid watching. It's no wonder the Ryan ToysReview YouTube channel has over 20 billion views and 15 million subscribers — and now there's Ryan's World, a line of toys and clothing inspired by the phenomenon, launching August 6 exclusively at Walmart (and on Walmart.com). So what will your kids be begging you to buy?
Bonkers Toys is partnering with kids media brand pocket.watch to produce the YouTube celeb's very first line of products, and if you've seen Ryan ToysReview, the selection will make perfect sense: Most of the items are Ryan-themed versions of the toys Ryan is famous for "unboxing" and testing out for the camera, from blind bags to slime to "squishy" characters and more. As the mother of a 3-year-old who's probably personally responsible for at least one billion of those 20 billion views, I have no doubt that these products are going to be some of the most in-demand playthings this holiday season (and all the other upcoming seasons, too). That's because to Ryan fans, his show is about more than just some random kid playing with a ridiculous amount of toys. Ryan is like a trusted friend who happens to have access to every product your kid could ever want: If Ryan likes it, your kid can be safe in assuming he'll be into it as well. Think of your favorite celeb, then ask yourself if you wouldn't be just a bit more likely to buy something endorsed by that celeb. It's obviously a formula that works, if Kylie Jenner's lip kits or those hair growth-promoting gummy vitamins famous people post on Instagram are any indication.
And if you're thinking there's no way a 6-year-old could possibly have the same reach or influence as somebody like Kylie Jenner, bear in mind that Ryan pulls in around $11 million of ad revenue per year from his YouTube videos, according to People. (Yup, $11 million for... playing with toys. And being adorable.) Ryan's parents clearly won't have to worry about his college tuition (for Ryan or his twin baby sisters, Emma and Kate, who seem poised to take their big brother's place when Ryan inevitably decides he's too old for Kinder eggs and Hot Wheels). The videos have evolved quite a bit from the very first clip of 3-year-old Ryan playing with a Lego train: After introducing a puppet called Gus the Gummy Gator, the family began to develop original animated characters like Combo Panda and Red Titan (Ryan's Super Hero Alter Ego), all of whom Ryan fans instantly seemed to fall in love with.
As a parent, one thing I appreciate about the videos is that there's no sign the little boy is bored or resentful of his gig, and Ryan's parents (his mom quit her job as a chemistry teacher to run the channel when his popularity started to soar) have said that the minute Ryan doesn't want to make videos anymore, they'll quit.
For now, though, Ryan is still having fun — he's even serving as "creative director" for Ryan's World. Indeed, if you're familiar with the show, you'll recognize Ryan's stamp of approval all over the following selections.
Ryan's World Giant Mystery Egg: Ryan loves cracking open giant surprise eggs, so this one is a no-brainer: Includes eight items "exclusive to the Egg," such slimes and putty, figures, vehicles and more ($50).
Ryan's World Mystery Putty: So much cooler than the silly putty we grew up with, this surprisingly non-sticky putty comes in a variety of shimmery colors including Shiny Silver, Glitter Gold, and Molten Orange ($5).
Ryan's World Mystery Blind Bag Figures: Blind bags play a huge role in Ryan's videos, so these are another perfectly on-brand offering. Will there be a scientist inside? A superhero? An astronaut? Not knowing is half the fun... except when you end up with duplicates, that is (prices range from $4 to $5).
It's my guess that these toys are gonna sell out ridiculously fast, so plan ahead if your kid has his heart set on snapping up blind bag or mystery egg. Who can say what's on the horizon for Ryan? Giant gummy versions of Ryan and his family? Ryan-themed furniture and bedding? A Ryan's World theme park?! Nothing would surprise me at this point!